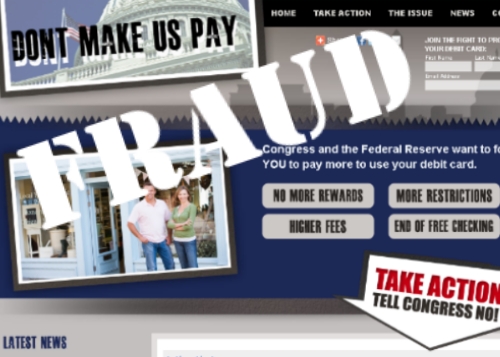 Months ago, an ad came up on my Facebook page: "Congress wants to impose higher fees on your debit card," or some such language. I'm pretty sensitive about debit card fees, ever since 1997 when a single bounced check wound up costing me about $400 in fees, thanks to manipulative bank practices. The Facebook ad invited me to join a group called "Don't Make Us Pay," a grassroots coalition working to protect consumers against higher banking fees. You can see their web site above (with one slight tweak from me.)
In the time since I subscribed I received several e-mail action alerts, and a couple of times sent form letters to my elected officials. But I'd been duped. Turns out, Don't Make Us Pay is a fraud, tricking people like me into opposing the very legislation that would protect us. Last week an email from Don't Make Us Pay made me a little suspicious, so I started poking around and learned that it is in fact run by the Electronic Payments Coalition, an astroturf front group that lobbies on behalf of a bunch of big predatory banks, including Wells Fargo, Bank of America, Citi, and JP Morgan.
After the jump there's a pretty okay video from YouTube user thewah that exposes the fraud.