Sunday I ran my shortest race yet, a 5K (that's 3.1 miles for you non-runner-types) in Astoria, organized by the Federation of Italian American Organizations of Queens. It was also the smallest race I've run, with maybe 400 runners if I'm generous. Liz has a pretty good writeup on her blog, so I'd recommend you go there if you want a lot more detail. The official races that I have run so far, in order, are a marathon, a 10 mile run, a 5-miler, and now a 5K. I guess now I need to find a one-mile run, then maybe a half-mile, a few track races, and then I can "officially" sit on the sofa while someone times me.
There are a lot of these little community runs around, and having only run larger, better-funded races to this point, it was a very different experience – there was very little ceremony, just a shout of "Runners set, GO!" that came in the middle of a conversation. We used no timing chips, but volunteers shouted our numbers and scribbled down our finishing times. I ran a 26:02 according to the official clock, which is not a personal best, but it's not too far off. Going into the race I was really hoping to beat my best previous 5K time, but the combination of a fairly hilly course and a heat index in the mid-90s by the heat index, did me in.
Liz came in second among women, her best finish to date and especially impressive because she's been dealing with a muscle injury in one leg that's been keeping her from running. Before the race, she wasn't sure if she would even be able to run. The fastest woman runner beat Liz by less than a minute, which probably has a lot to do with Liz's experience running longer races. Experienced marathoners like her learn to set a sustainable pace out of the start, and save energy for a burst of speed (runners call this a "kick") with a mile or less to go. At a short distance like a 5K, it's a better strategy to push your speed right from the start line, and a marathoner's natural instinct to set a sustainable pace can be a hindrance.
Elmwood Park Zoo used to put on an annual 5K run a lot like this one, held together by scotch tape and gum. Running the FIAO race got me thinking about those days watching the runners and thinking they were insane and how I would never, ever be able to run like that.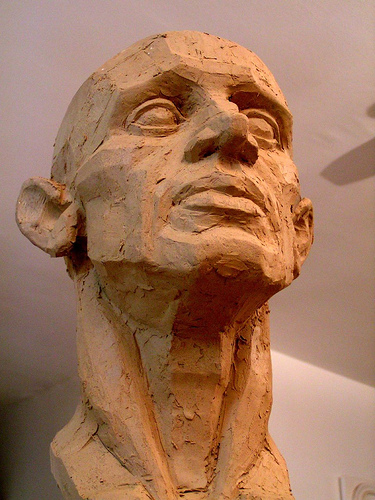 The Intern today has an excised scene from Imaginary Girls by Nova Ren Suma, part of the site's "International Sh*tty First Draft Week," which reminded me of a conversation that came up at a recent writer's group meeting. Many of us get caught up or blocked trying to write a perfect first draft, when a first draft is really meant to be raw material. As the expression goes, writing is rewriting.
I give you the writing-as-sculpting metaphor, which is either something I heard somewhere else or an original concept by yours truly. I honestly cannot recall.
Imagine writing as sculpting in clay. You begin with a rough mental image of what you'd like to craft. The first step is to build a skeleton that will support the whole weight of the work and hold it together. In sculpting, this is often a wire or wood armature. In writing, it is an outline.
A sculptor then "builds up" by throwing clay onto the armature, creating the rough shape of the final sculpture. It is from this rough shape that he or she will then cut away clay, bit by bit, to leave behind the final piece. Small pieces can be added on where needed, but mostly the final piece is "cut out" from the built up intermediate.
This is the important thing to remember about a first draft: in sculpting terms, the writer is "building up," throwing material onto the skeleton that can later be cut and carved more carefully into the final piece. You don't want it to look perfect, and you want to have more material than you need to work with, so you can mostly cut away rather than adding on.
Suma backs me up. From her remarks on the excised portion of her draft:
I write long. My first drafts are a study in endlessless and an experiment of how many times I can have my characters discover and rediscover the same thing and face up to the same epiphany. In first drafts, apparently everyone I write about has amnesia. That, or it takes me a few times to get a scene down right.

This means that when it comes time for revision the first thing I do is cut. I cut, then rewrite, then cut some more. (Then I do it again. And again.) The snippet of the scene I'm about to share isn't something I cut out of horror–this does happen; I've been known to cut-and-cringe–this scene was simply something that didn't fit the more I kept writing.