Hey, so a thing happened.
A person, her name is Kate Breslin, wrote a book. It's called "For Such a Time." Note that I am not linking that title to anything. There's a reason.
This book is about a Jewish woman in 1944, in a Nazi concentration camp, who falls in love with a Nazi commander. That love affair redeems said Nazi  commander, they rescue a bunch of people from the camps [which, note, never happened] and then the Jewish woman converts to Christianity. There is a magic Bible that turns up repeatedly to inspire the heroes. Also, this is a retelling of the Book of Esther.
I'm not going to go on at length about why this is such an awful, deplorable, grotesque abomination of a concept. I will let other people do that, and recommend you go read. Those people:
What I am going to point out is this: For Such a Time is Kate Breslin's first novel, which presumably means that: Continue Reading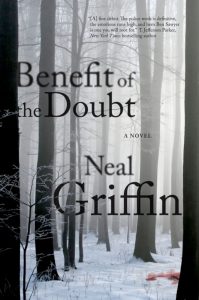 Neal Griffin's debut novel, "The Benefit of the Doubt" is a page-turner of a thriller by an author with clear expertise in both police procedure and police culture, unflinching in its presentation of violence, racism, and vice. Set in small-town Wisconsin, the book explores the reality of small-town policing and the way crime and corruption go unchecked; think Fargo meets Copland. The book does not turn around a twist or reveal but relies on solid pacing and storytelling to hold the reader.
The story follows two men on intersecting paths. Ben Sawyer is a former big-city cop, used to dealing with gangs and violence but banished to rustic Wisconsin after his temper gets the better of him and he nearly kills a suspect. Harlan Lee is a felon on parole with a laundry list of scores to settle. As their lives gradually entangle (unbeknownst to either man), other characters are pulled in: The precinct's dirtiest cop and corrupt new chief, a young lady cop fresh out of black-ops in Iraq, and Ben's own wife and stroke-disabled father. Continue Reading