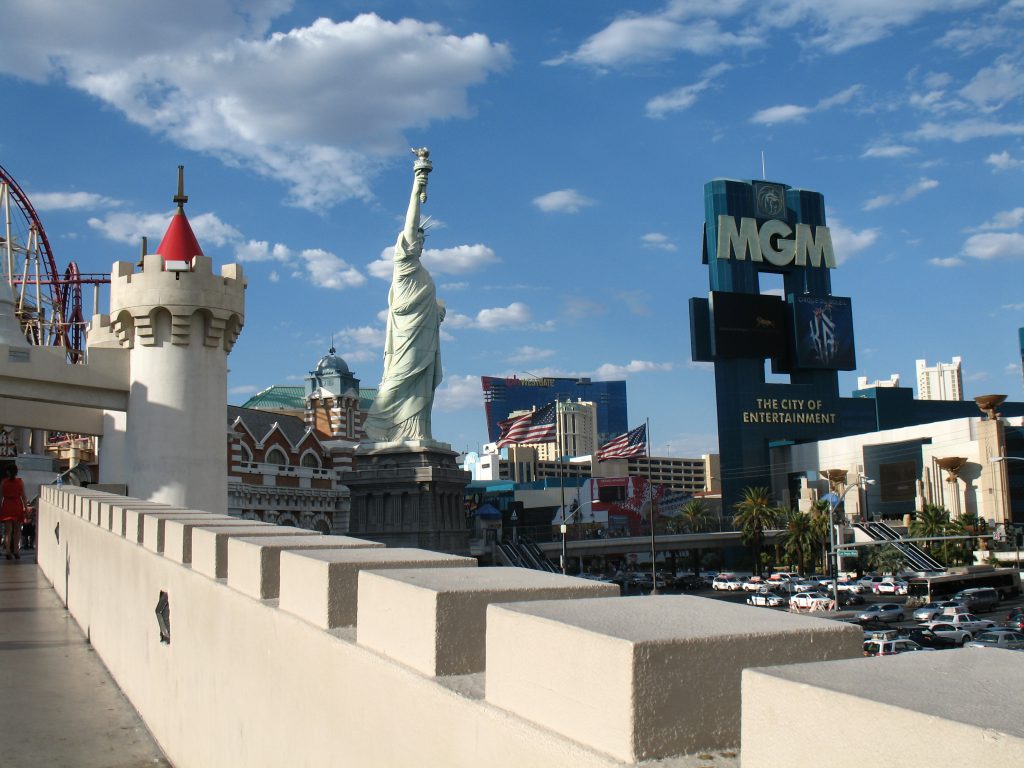 As we wrap up Vegas Week, I will leave you with a few miscellaneous bits of advice to help you maximize your visit to Las Vegas.
First, the cardinal rule of Las Vegas: Wear. A. Watch. Or carry a cell phone, but at least bring some means of telling time. Clocks do not exist on the Vegas Strip. Casinos have no windows, and once the drinks start flowing and you start putting money in that bright and shiny machine, hours can vanish faster than you would believe. Wear a watch.
Second, the cardinal rule of drinking in Las Vegas: if you're going drinking, anywhere outside the casino floor, pre-game in your room. Drinks on the casino floor are free – just remember to tip your waitress $1 per drink if you ever want to see her again. Do you know how much drinks cost anywhere outside the casino? GO BACK TO THE CASINO, that's how much. You can pick up beer and liquor at many stores along the strip – my favorite was the CVS just north of Monte Carlo. Please note: if you are driving, DO NOT PREGAME. We at Keelty Labs have zero tolerance for those who drive with any amount of alcohol whatsoever in their bloodstream.
Thirdly, if you plan to gamble – or even if you don't plan, exactly, but this is your first or second trip, please establish some kind of limit for yourself. Don't be one of those people being dragged out by their friends, or one of those people crying about how you can't afford your plane ticket home. Those people exist. Bring your gambling cash, and leave your wallet in your room. Vegas is designed to take all of your money away as fast as possible. You need to protect yourself.
Okay, with those three rules out of the way, on to some more fun touring suggestions…
The Eiffel Tower Restaurant at Paris, Las Vegas offers a beautiful view of the strip, and is arguably the very best vantage point from which to watch the Bellagio fountain show (though you won't be able to hear the music). Prices for lunch are reasonable, but if you're looking for a really cheap show, go up for a drink between lunch and dinner hours. The restaurant is virtually empty and the bartending staff is friendly. Note that the Eiffel Tower Restaurant and the Tower Ride are not the same thing – they are accessed from different elevators from the Paris casino floor.
If you arrive at McCarran airport during peak arrival hours (especially Friday evenings) the line to wait for a taxi cab can often be an hour or more. You'll actually get to the Strip faster by taking one of the shuttle buses – a staff person at the shuttle door can direct you to the best shuttle for your resort.
Similarly, the taxi line at the trendiest and most popular casinos – like Caesar's and the Bellagio – can stretch to a half hour or more at times. To get a cab faster, take the short walk to a less-fashionable casino, like Bally's or the Monte Carlo, and shave that wait down to five or ten minutes.
For fitness nuts who need to work in a run, the Vegas Strip can be a great running route – provided you start at the right time of day. The strip will start to fill up (and heat up) between 9 and 10 AM most mornings, so if you get out before then you'll have generally clear sidewalks. It's 4 miles, almost exactly, from the (recently closed) Sahara at the top of the strip to Mandalay Bay at the bottom. Calculate accordingly.
When touring the strip on foot, you can avoid the desert heat by using passageways between many casinos. Mandalay Bay, Luxor, and Excalibur are linked, as are Bally's and Paris, Las Vegas. These passages can be hard to find, so don't be afraid to ask staff for directions. There are free trams that will transport you between Mandalay Bay and Excalibur (only trains leaving Mandalay Bay stop at Luxor), between the Bellagio, City Center, and Monte Carlo, and between Mirage and Treasure Island. There is also the monorail, which is not cheap, but provides quick and easy transportation up and down the west side of the strip. To find these trams, you often need to walk to the back of the resort – again, don't be afraid to ask. The Deuce bus runs up and down the strip, but never having traveled that way, I can't give much advice. Lastly, when on foot, remember that many intersections on the Strip may only be crossed via footbridge, several of which may be accessed directly from the second floor of the nearest Casino. If you descend to sidewalk level before exiting, you will likely have to take an escalator back to the bridge.
A handy list of free Las Vegas attractions can be found here. I highly recommend making time for the lion exhibit at the MGM Grand (trainers keep the cats active most of the day, and sight lines are fantastic) and for the famous Bellagio fountain show, which is stunning and usually classy – depending on which song comes on. The erupting volcano outside the Mirage is worth watching, and the Sirens of TI show outside Treasure Island has special effects worthy of a Disney park – if you can tolerate the pre-recorded cheeseball dialogue and hackneyed storyline. See the list for others that may appeal to you.
Several casinos are worth touring just for the ambience, especially on weekend evenings when they start pulling out all the stops to grab attention. Caesar's and Paris are hard to beat for atmosphere, though I recommend Luxor or MGM Grand if you want more of a dark, sexy lounge feel. If you're looking for class, Bellagio is beautiful, as is Mandalay Bay, but if conspicuous consumption and expensive interior design is your bag, check out the Wynn or the Encore. Fans of classic Vegas flash and dazzle should try Fremont Street, the Flamingo, or the Riviera, and those who desire to feel like they're experiencing some terrible acid trip should rush to Circus Circus. Mirage is the only casino with an indoor rainforest, which can be quite relaxing, and while the inside of New York New York strikes me as dull and unimaginative, the outside is quite impressive. Lastly, if you're looking for a bunch of old people and no discernable theme beyond "here's a room full of casino games," you want Bally's.
Speaking of casino themes, some people might enjoy touring the casinos that have attempted to distance themselves from their theming because it skewed to a demographic too young (Treasure Island) or because it was incredibly racist and offensive (Imperial Palace). Lest I should forget, Excalibur is perfect for those who (a) always wanted a casino based around the Medieval Times restaurant chain, or (b) desire to feel baffled and angry at how many parents bring young children to Las Vegas.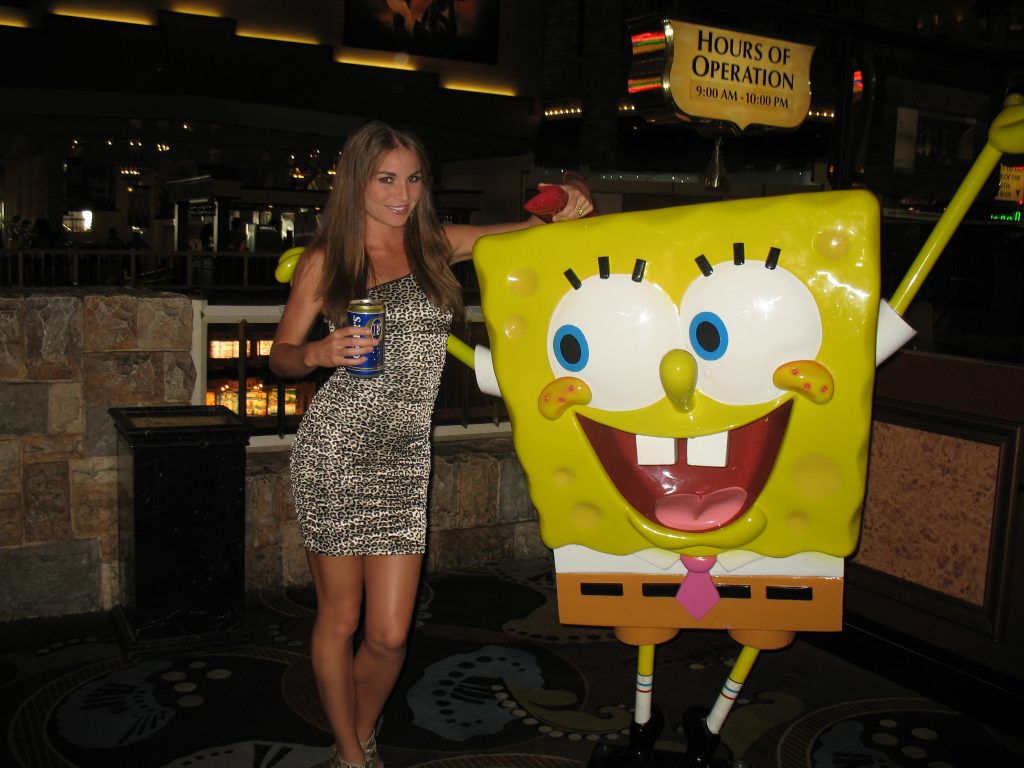 Lastly, I have a request for guys: guys, please throw on something presentable. From what I've seen, it's likely your girlfriend has squeezed into a slinky cocktail dress and heels that will be killing her within the first ten minutes, spent an hour on her hair and makeup, and agonized over picking just the right accessories. It's a Vegas thing. Each evening, the city fills with gorgeous women dressed to the nines, trying to make the most of their vacation – and on their arms, usually, is some schlub in baggy jorts, sneakers, and a rumpled TapouT t-shirt. Guys, have you noticed that in all those Vegas movies you love so much–Swingers, The Hangover, Ocean's Eleven through Twenty Seven–the men are all wearing suits, or at the very least, a jacket? Throw on a shirt with a collar. Hell, go all out and put on a sport coat and a pair of slacks. You'll feel like you're Vince Vaughn or George Clooney [as if!] and I promise your girlfriend [or boyfriend – but I really doubt the same-sex couples need this advice] will appreciate it.
Most importantly, in my opinion, remember that Las Vegas is a unique display of human opulence, the closest thing the U.S. has to a pleasure dome (except, perhaps, for New Orleans) and there's a ton of adventure to be had just walking around and seeing what the Strip, and the city surrounding, have to offer. Vegas is one of the few places in America where adults can unapologetically be adults, without worrying about offending someone's kids [Except all those irresponsible parents who bring their children out to the Strip – what the fuck are they doing there? It's like half past midnight, what are those kids doing here? There's a vending machine full of free naked hooker catalogs, and people on every corner shoving little hooker flyers in your hands…and they figured they should bring the kids? Get a goddamn sitter, already! Or leave the kids with grandma, or, you know, acknowledge that there are consequences to your choices and, I don't know, maybe don't come to Vegas. Oh, they make me so angry!]
If your entire Vegas experience consists of staring at a slot machine or a table dealer, drinking the night away in a dark casino, and sleeping off the hangover poolside the next morning, you're missing out. Take a little time to drag yourself out and see what billions upon billions in mob money and Wall Street junk bonds built for your pleasure.