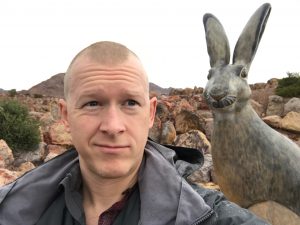 Hi! I'm Christopher Keelty. You can call me Chris.
I'm a writer based in New York City. I write adult fiction about spaceships and monsters, future dystopian societies, and magic and elves and such. Sometimes I draw political cartoons, and occasionally I manage an essay here or there.
Where might you have seen my work?
I'd love to think you read one of my short stories, but if you know my name it's probably from this Breaking Bad cartoon, which went viral and appeared on The Huffington Post, Salon, Upworthy, and a bunch of other places. You might also have seen me on YouTube or Twitter, or poking my head into some other place on the Internet.
How about some biographical facts?
For starters, I'm a bisexual cisgender man and a proud member of the LGBT community. I'm a student of politics and history, and identify alternately as progressive or liberal for a variety of reasons, but mostly a strong dedication to equality, fairness, and personal freedom. The biggest issue that shapes my political views is racism; I think it's the greatest evil in modern society. Eliminating structural racism requires direct and powerful action, and will generally be my top priority.
I'm an animal lover, and live with my cat, who has yet to ever chip in for rent.
Besides writing, I've worked for years as a fundraiser for nonprofit organizations. I started out at a couple of small zoos in eastern Pennsylvania, so I have plenty of good zoo stories. I've tried a lot of different animal foods; hippo food was my favorite, it tastes like bland bran flakes. I have a nuanced view about the ethics of zoos and whether animals should be kept in captivity. Ask me sometime.
I worked for the ACLU for several years with the Pennsylvania affiliate, and I'm tremendously proud of the work I did there. I'm a lifelong ACLU supporter, and given the opportunity I will talk your ear off about all the good the organization has done. I've also worked for City Harvest, a large anti-hunger charity in New York City. I currently work at a large nonprofit health care organization–I tend to avoid naming my current employer, to avoid entangling them in anything I say in my private life.
I was born in Upstate New York, but moved to the Philadelphia suburbs as a teenager. I've lived in all three largest cities in Pennsylvania: Philadelphia, Pittsburgh, and Allentown, and while I still tend to think of myself as "from Philly," after almost five years in New York City I do label myself a New Yorker.
Anything else you should know?
Bear in mind this is my personal web site, and the views and opinions here are mine and mine alone. Unless otherwise specified, I do not speak here on behalf of any employer, organization, or any other business or individual with whom I may be affiliated. Likewise, any and all comments are the opinions solely of their authors.
I love to argue, and I love an audience. Knowing I have readers motivates me to write. So please comment. Even (especially?) if it's to tell me how much you disagree with me.
Thanks for reading! I hope to hear from you.
Chris