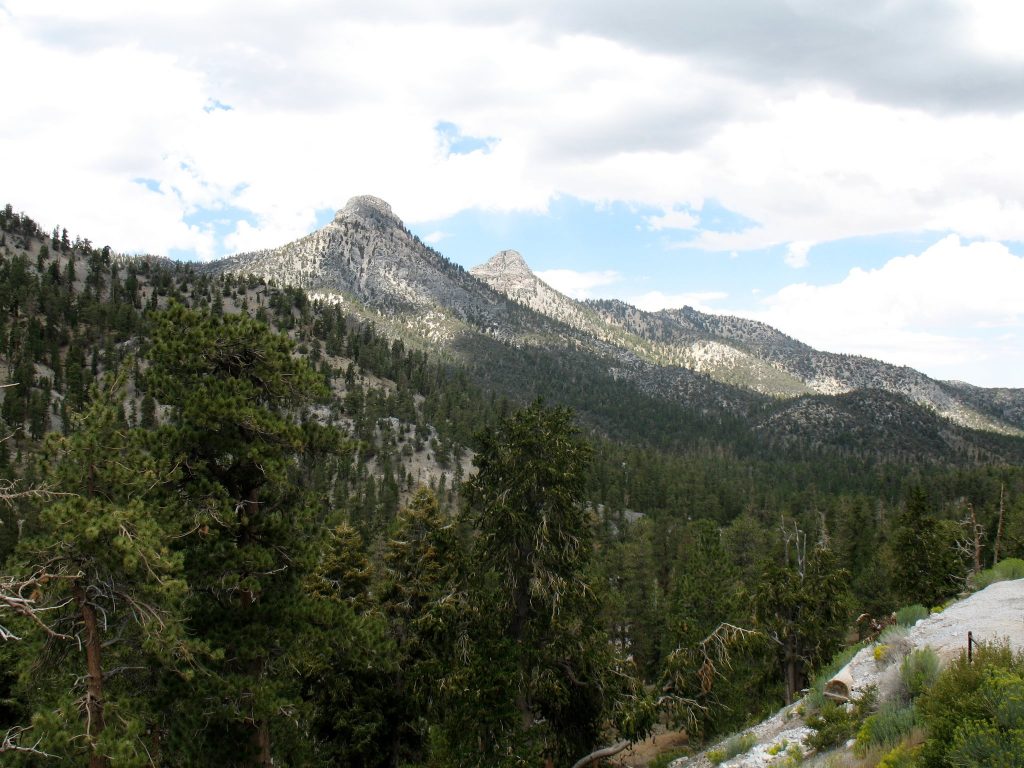 Las Vegas is so well known for the Vegas Strip (which isn't even technically in Las Vegas, but that's a subject for another post) that many tourists miss out on the totally different adventures to be had within a short drive. Many know about the Hoover Dam, the project that gave birth to Sin City (as a sort of pleasure dome for the many dam workers who'd been taken away from their wives and families and sent to the middle of the desert), but few take the time to appreciate the wild areas that are only a short drive from the Strip.
An hour to the northeast, at the top of Lake Mead, is the Valley of Fire, a beautiful desert you've seen in plenty of movies, where tourists can observe petroglyphs left by indigenous people three thousand years ago. In the summer, though, when the Valley of Fire demonstrates its name, you may be more interested in escaping the heat. An hour northwest of Las Vegas is the Spring Mountains, better known for their highest peak and its namesake city, Mount Charleston. These mountains feature over 50 miles of recreational trails–some gradual enough for a beginning in tennis shoes, others suited more for advanced hikers–and because the base of most of these trails is 5,000 feet higher in elevation than Las Vegas, temperatures are generally about 20 degrees cooler than on the Strip.
Getting to the Spring Mountains is easy, and parking is plentiful. To find a trail suited for you, I recommend the comprehensive guide at BirdAndHike.com – but be warned, cell phone reception is very spotty in the mountains, so it's wise to plan ahead and print out all the directions you'll need before you go.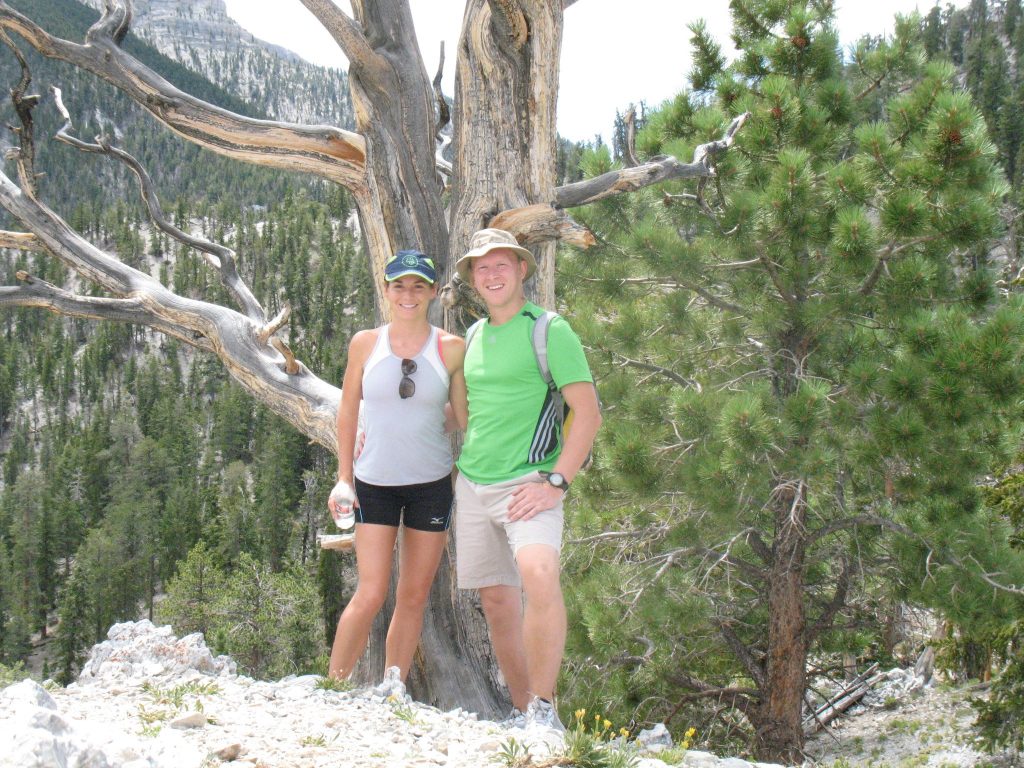 Because they are isolated by desert all around, the Spring Mountains are sort of an ecological island, and are home to more than 30 endemic (found nowhere else) species of plant and animal. The Charleston Mountain chipmunk is especially cute. When I climbed Cathedral Rock with my father and brother there were several of these little critters who begged us for our trail mix. They appear to be drawn by the crinkling sound of a plastic bag.
There are other animals as well – mountain lions and bobcats that you're unlikely (thankfully) to see, as well as elk and deer. On this most recent trip, Liz and I were nearing the end of the Bristlecone Trail, passing through an aspen forest in a valley area, when we stumbled on four wild horses. They seemed fairly unafraid of us, even a bit curious, and let us get within about twenty yards. I had the bright idea to offer one an apple, never thinking that a horse that grew up in the mountains near Las Vegas might never have seen an apple. When I tossed the apple, the horse spooked and they ran off.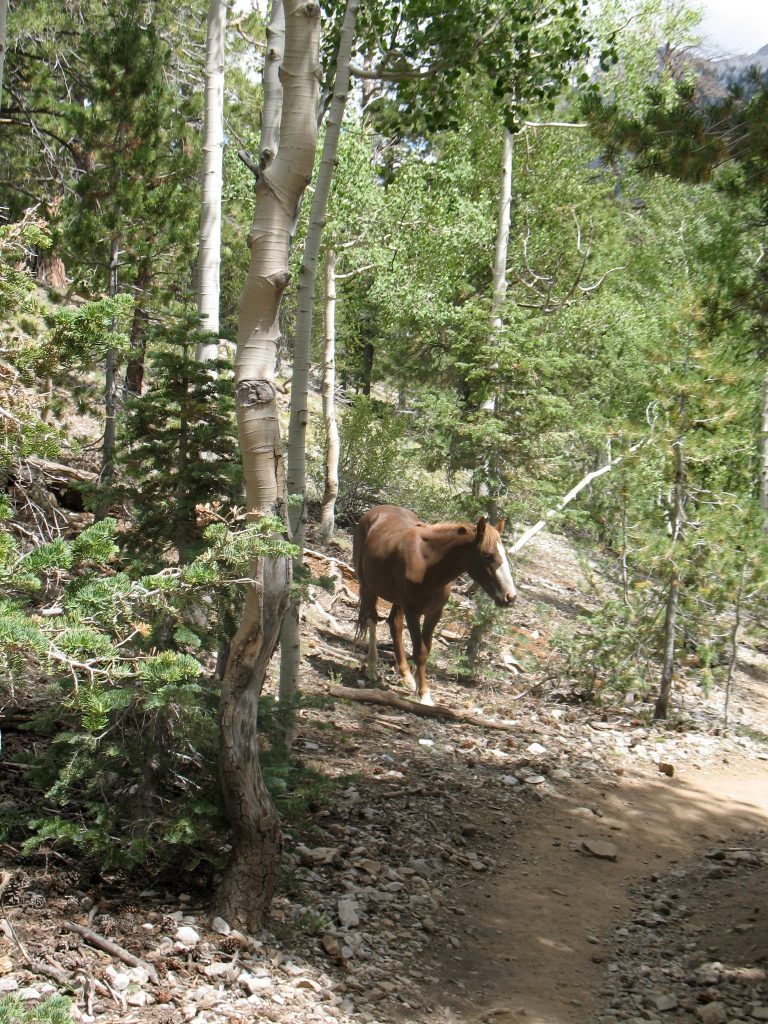 The Spring Mountains are also one of the few places you can see living bristlecone pine trees, the oldest living things on Earth (that we know of). Some of the oldest trees in these mountains have lived nearly FIVE THOUSAND years. They grow and reproduce so slowly, in fact, that biologists are concerned there may not be enough living trees to sustain their population, and they will slowly pass into extinction.
With all the booze and glitz and flesh on display on the Strip, I highly recommend taking a day to get out in the wilderness, detox, and reconnect with nature. Even if you aren't the hiking sort, just driving through the Spring Mountains can be stunning. There are several scenic overlooks from which you can survey hundreds of miles of beautiful desert, and I'd recommend that even the laziest driver stop at Robber's Roost, a very short (though steep) trail that takes you to an actual box-canyon hideout used by genuine cowboy-era bandits.