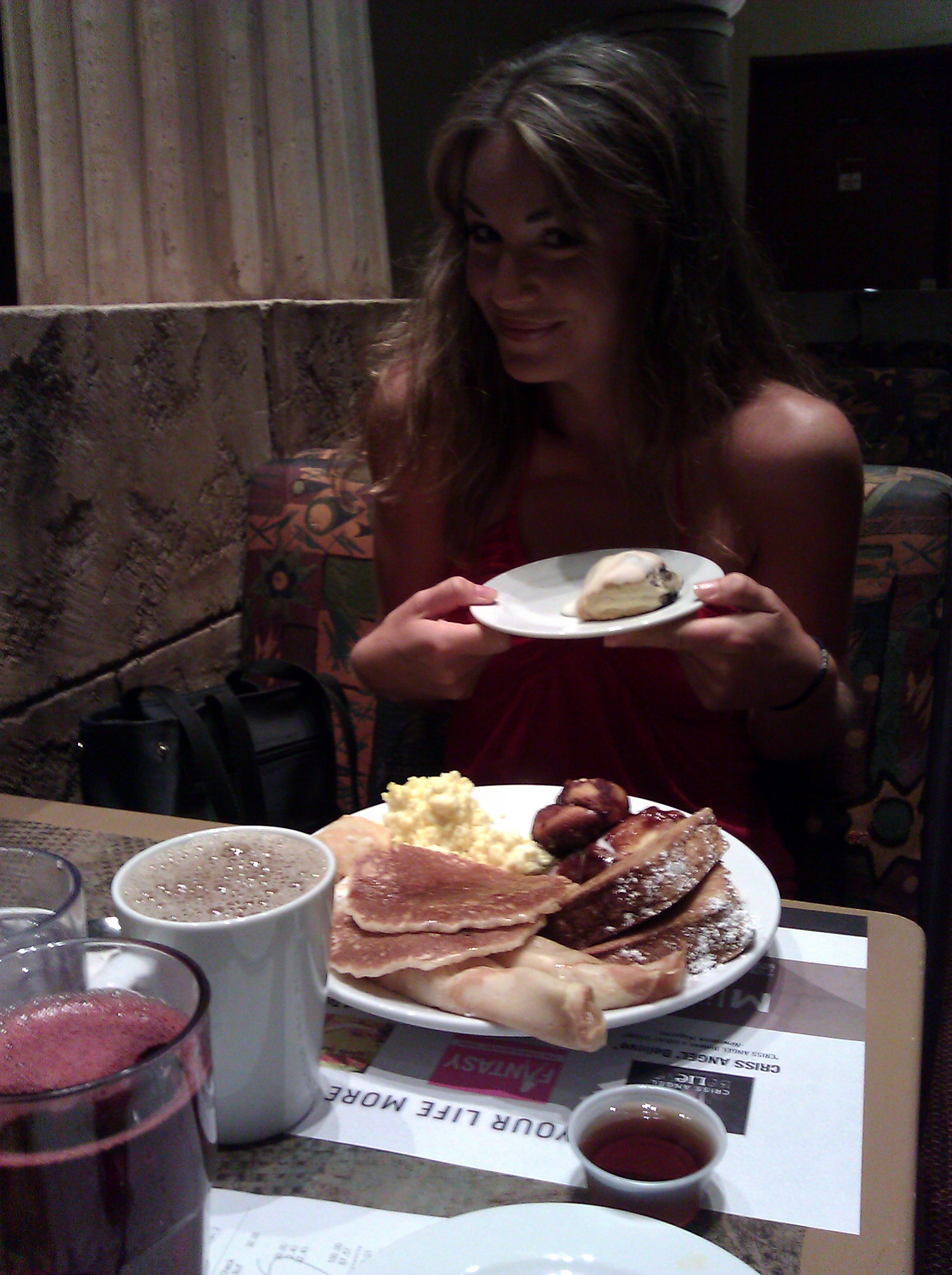 The very first place Liz and I went in Las Vegas (after our hotel, of course, we did arrive at 1:30 AM) was the breakfast buffet. On the short list of things Vegas is known for, no doubt, is the food–and while the buffet prices might not be as rock-bottom as they used to be, the buffets are still certainly something to be experienced. On our first trip, we went straight for the dessert table, and I put away a frosted blueberry scone before I even grabbed my first plate. Liz had her first experience with monkey bread–much to my surprise, as it's always been a Keelty family staple–and I don't think she'll ever be the same.
I won't spend a lot of time with Vegas buffet tips, since they're much the same as any other buffet, but I'll do a quick run-down: scout the whole buffet before you fill up your first plate; take small portions of everything that looks good, so you can see what actually tastes good and go up for more; don't fill up on soft drinks and bread when there's better tasting (and more economically efficient) food available; and if you're one of those people trying not to be "irresponsible" (and really, what the hell are you doing in a buffet in the first place, then?) grab a small bread plate instead of a big dinner plate, and fill up on veggies first.
What you do need to know about Vegas buffets is: (1) There are a LOT of them, and (2) They are NOT all created equal. A buffet meal on the Strip can run you anywhere from around $12 (for breakfast at the Monte Carlo, for instance) up to almost $40 (for the gourmet dinner at the Bellagio) per person. If you go off the strip, you can get prices even lower. Many mid-range buffets offer discounts in the free coupon books that are ubiquitous around Vegas, and the buffet has a reputation for being one of the easiest activities to get "comped" on based on your casino play.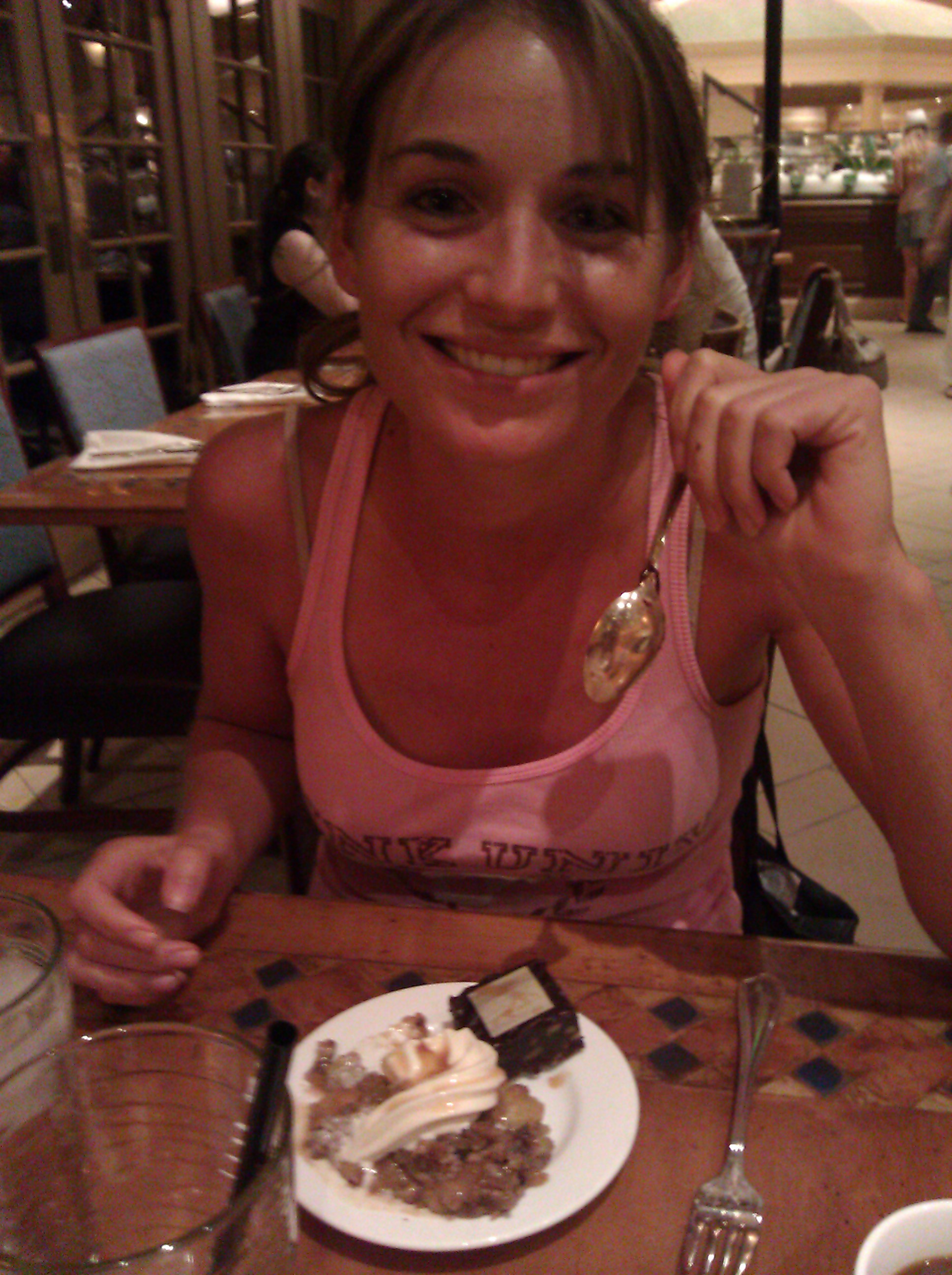 One warning: unless you feel like sitting through a couple hours of timeshare presentation, avoid the guys wandering around the hotels and casinos offering you free shows, free meals, and free gambling. On the flip side, if you're the kind of person who doesn't mind sitting through a couple hours of a high-pressure timeshare pitch, you can pick up some pretty sweet discounts for your Vegas trip.
There are plenty of sites dedicated to reviewing Vegas buffets, so I won't pretend to have their level of expertise. I have personally eaten at three buffets: the breakfast at the Luxor was delicious, but I do think breakfast is pretty hard meal to screw up. Nothing especially exotic, but their apple-smoked bacon was some of the best I've ever had, their apple-filled crepes were delicious, and I've already mentioned the monkey bread and the frosted pastries. Oh, and I'll also plug the scrambled eggs with chorizo, which was awesome.
On my last Vegas trip I ate at the Carnival World Buffet at the Rio resort, which my family had heard consistently won "best buffet" among locals. I have to say, I can see why – the variety of ethnic foods was impressive, including at least Mexican, Japanese, Chinese, American, Italian, and Thai, and offering a few more exotic options. I highly recommend it. On this most recent trip, I also tried the Bellagio on a Friday for their gourmet buffet. While the food options were more limited than the Rio, the quality was top notch – smoked salmon, whole roasted quail, crab legs, Kobe beef, Beef Wellington, jumbo shrimp cocktail, and lots more. My shellfish allergy, however, put a fair percentage of the options off-limits. If you're a big fan of shrimp, Kobe beef, or crab legs, I'd say it's worth the high price. I'll also corroborate another reviewer, who said the desserts look much better than they taste – though they don't exactly taste bad.
Wherever you go, arrive early. Wait times for Vegas buffets can become legendary – we waited in line for the Bellagio buffet for almost twenty minutes, and when we left the line looked to be an hour or more. Oh, and one other tip: try to know your limit. Poor Liz smiled her way through the entire Bellagio experience, and ten minutes later could barely walk from stomach cramps. It took almost two hours and half a package of Pepto Bismol to bring her back to operating capacity. "All you can eat" is just an expression, folks, and that last fudge walnut brownie isn't worth losing half a day of precious vacation time.