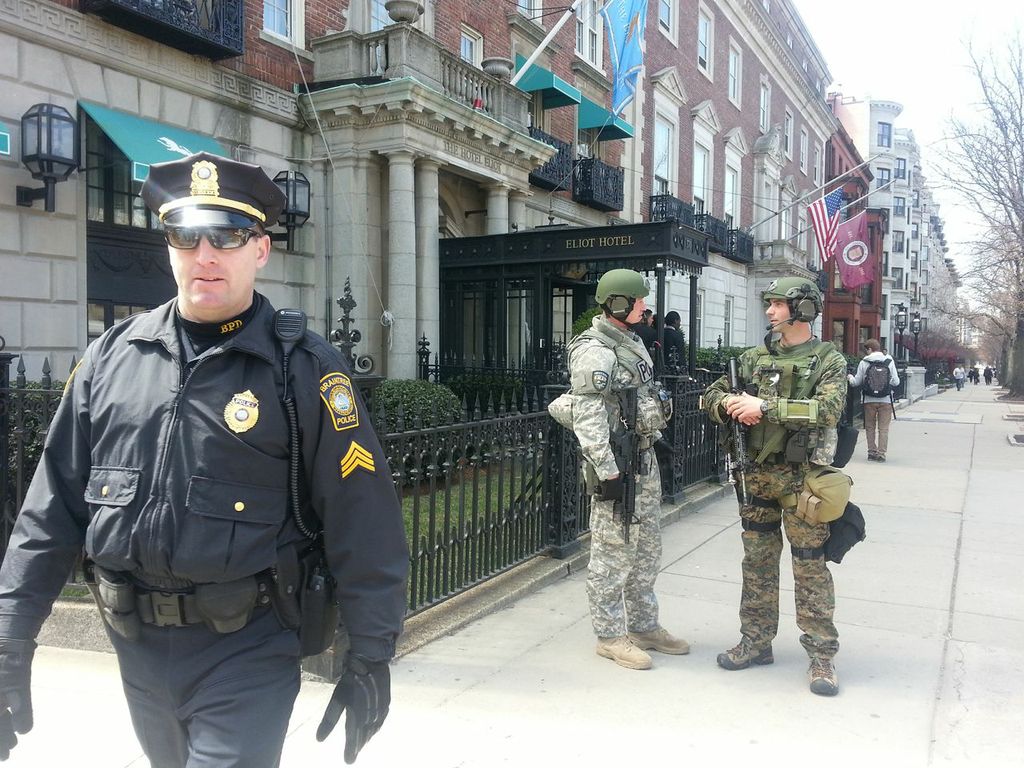 We left our hotel a little before noon to walk to Back Bay Station. Just outside the door were a Boston police officer and two men in combat fatigues, I assume National Guard. Their mood seemed easy enough, and when I took a photo and told the officer it was a "souvenir of our trip to Boston," he urged us to come back.
"Otherwise the terrorists win," he said. I told him we'd be back in two years. Liz's next marathon is Philadelphia in November, which is too late to qualify for Boston 2014.
The morning had been pretty calm. We left the television off and focused our conversation on the race, not on what happened after the finish. Every marathon is a hero's quest, and every runner has a story to tell. Liz ran with her friend Cip, and their story was about pushing through calf cramps and mental exhaustion to get to the finish. They blew kisses to the girls at Wellesley and spotted a woman runner near the foot of the Newton Hills who had pooped her pants. By mile 25 Cip swore this would be her last marathon, but when they turned the corner onto Boylston Street and the finish line came into view, they both burst into happy tears and she changed her mind.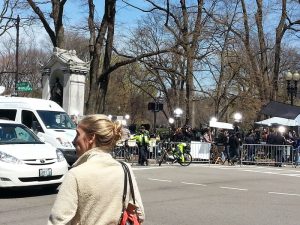 Being outside among other humans was much harder, emotionally. To get to Back Bay we had to walk along Commonwealth Avenue, parallel to the finish area and just a block or so away. The finish area is still closed as a crime scene, and soldiers and police patrol every intersection. Media satellite trucks crowded Commonwealth Avenue. The national media had taken over the intersection of Arlington and Boylston, setting up impromptu studios with hot lights and stools for their anchors. Behind them, a mob gathered to look up Boylston street, which remains as it was yesterday afternoon, scattered with debris and damage. Nearby were piles of the mylar blankets runners receive as they finish, silver on one side and printed with blue-on-white Boston Athletic Association logos on the other.
The locals had taken to random acts of kindness. As we walked along Commonwealth, a young woman gave Liz and Ben white roses and thanked them for running. That was the thing that hit me hardest, emotionally. People are just so damned nice after a tragedy. It always makes me cry.
Liz turned down two interview requests as we crossed Boylston Street. She's too raw right now to tell her story, especially on camera. The blog post I wrote last night was picked up by a national press syndicate, thanks to an old high school friend. I had to think about that one, just as I did before publishing the blog at all. I see some people and companies who are treating this as an opportunity for self-promotion, and that's the last thing I want to do right now. Being present, I feel like I have an opportunity–perhaps a responsibility–to help tell the story. I put myself in the story because this is a personal blog, and I'm not writing it as a journalist. But it's not about me.
Outside the train station, we spoke with two guys selling newspapers. It's an annual tradition that the local Boston papers publish the full list of runner results. I bought a Herald, though I was reluctant. Photos on the cover were of people at the bomb site crying, and the headline was something about "Terror." We'll stick it in a bag somewhere and pull it out in a few years when the emotions aren't so fresh.
Among all the craziness in Boston, the reporters and the police and the soldiers, there were hundreds of people going about their daily lives. A woman walked her two golden retrievers past the satellite trucks, while families with strollers passed the other way. There were runners on the sidewalks. One guy blew past us with his shirt off, making the most of a warm and sunny day. In the end, I guess, that's the best thing to take away from this–when your world looks crazy and unfamiliar, the best thing to do is keep on running.
We will be back for sure. I sincerely doubt I can ever run fast enough to qualify for the Boston Marathon, but Liz wants to PR in 2015. Hopefully that train ride home will be more cheerful.