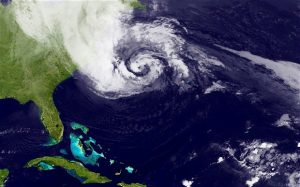 I, with most of Philadelphia, survived Hurricane Sandy unscathed. I spent two days huddled in my third-floor apartment, my kitchen jammed with bottles and pots full of reserve water, listening to the wind howl while I kept my cats company. I even managed not to eat all my hurricane provisions the first night – no small feat. I never lost power, and even my satellite TV kept a strong signal through the whole storm. I did, however, learn my kitchen windows leak.
Family and friends in New York City report varied results. Liz did fine in Astoria – like me, she stayed dry and never lost power. Relatives in Howard Beach, Far Rockaway, and Massapequa did not fare as well. Many of them still don't have power, and are stranded away from home. Two of them saw four feet of floodwater enter their homes. And of course everyone in New York is impacted by limitations on the MTA, bridges and tunnels, gasoline shortages, and more. No one I know went through anything as tragic as the fires in Breezy Point, however, so we should all be thankful because it could be worse.
I'm heading to NYC tomorrow night to cheer Liz on as she runs the New York City Marathon. A lot of people have questioned whether it's appropriate to hold the marathon in light of all the people who are still without power, still flooded out of their homes, etc. I have mixed feelings, but my opinion (not that it's important) is that unless stopping the marathon really is going to get power restored faster, they should do it. One group I'm really thinking about is food service near the finish line, who probably get a big cash infusion from the 40,000 runners who finish a 26-mile race hungry. I'm sure sales haven't been good in the last few days, and they'll be happy to see customers, even if the race attendance is greatly reduced. Anyway, I'll be riding one of the first Amtrak trains up late tomorrow night, and returning home early Monday morning. Fingers crossed for minimal complications.
Like everyone else, I have been watching the extensive news coverage, which has taken a political turn recently. I'm very, very impressed at the way Chris Christie has conducted himself. I'm not a fan of his policies, but I've gained a lot of respect for him as a person. I'm also a little disgusted not only at the usual Obama-slander coming from the usual sources, but by the particularly venomous criticism Romney has received for his ham-handed-but-good-intentioned response to the hurricane. Yes, it's been dopey, but the level of vitriol I see from fellow leftists is clearly motivated by partisanship.
That's about it for hurricane news. To update other news, Shadow is still kicking, though he is dwindling. We thought it was over a day or two ago when he stopped eating, but in the last 24 hours he's started eating a bit again, and even his activity level is a bit higher. Last night he climbed up onto the sofa and snuggled with my mother for the first time in a week or two. It's still near the end, but every day he has left with the family is welcome.