In honor of last week's trip to Las Vegas with Liz, this week is Vegas Week, where we learn about the history, sexy and sleazy, of Sin City, and I share my personal experience and advice for a visit.
Opened in 1993, the Luxor was an early entry in Vegas's 1990s mega-resort renaissance. Built by Circus Circus enterprises, the same company that built Excalibur, Luxor shares Excalibur's heavy-handed approach to theme. While Excalibur's medieval theme has been carried to a ridiculously tacky exterior, however, Luxor's ancient Egyptian theme, equally garish, manages to be sexy. From the exterior, Excalibur looks like a giant toy castle, owing probably to the "family attraction" concept Vegas resorts were pushing so hard in the 1990s. The white towers with brightly colored roofs look like something that would come in a box labeled Playmobil or Lego. Luxor, meanwhile, is a sleek obsidian pyramid, which would be invisible by night except for the white lights that dance up and down its vertices and the spotlight beam at its peak, reportedly the brightest in the world, that seems to be beckoning alien life to come drop a few hundred grand at the tables. Yes, there is also a giant tacky sphinx out front, but most people hardly notice it because the pyramid is so eye-catching.
Luxor's pyramid shape makes for another interesting feature: the elevators inside the pyramid don't go straight up and down, but move instead at a 35-degree angle, following the face of the pyramid. If part of your Vegas vacation involves drinking yourself to a near-stupor, this can present a difficulty – but if you're (relatively) sober around 1 AM, it can be a little added treat to ride in an elevator and watch the drunk people fall over. Liz and I stayed in one of the two ziggurat-shaped towers that were added to expand the Luxor in the late 90s, so we only rode the crooked elevators once, by choice.
What I like about Luxor is that the whole casino feels like a nightclub. While casinos like Caesars and the Bellagio are wide-open and brightly decorated, Luxor is decorated in blacks, silvers, and blues, and feels smaller and more intimate. There's no trace of that "family appeal" that a few casinos (like Excalibur next door) still try to cling to – with its sexy decor and the frequent ads for their sexy revue, Fantasy, and plush night clubs Cat House and LAX, Luxor is decidedly intended for adults. The one thing that really detracts from the sexy atmosphere is that you can't walk 20 paces without seeing Carrot Top, one of the Luxor's two headliner attractions. There's nothing that will kill a sexy mood faster than Carrot Top, the answer to America's great unasked question: "What would Michael Jackson have looked like if he were a ginger?"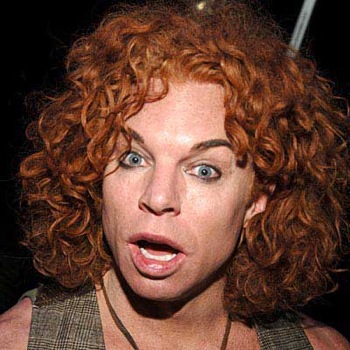 The drawbacks to Luxor? First off, it's quite dated, which almost everyone notices. While the pyramid looks sleek and sexy at night, by day it looks weathered, sun-faded, and badly in need of refurbishing. Luxor lacks an ultra pool entirely, and while the hotel pool is big, it's basically a well-decorated hotel pool, with no waves or lazy river or any of the attractions other resorts offer. Combine all this with Luxor's location near the southern extreme of the Strip (only Mandalay Bay, which boasts much nicer amenities, is further south) and Luxor's tourist appeal is greatly reduced. Newer resorts like the Bellagio and the Wynn attract the beautiful people, while Luxor is the domain of the bargain hunter. On the bright side, this means an affordable trip – Liz and I paid $120 for four nights – but if your Vegas fantasy is watching the sexy people come out to play, spring for a room in (or nearer to) the Bellagio or the MGM Grand.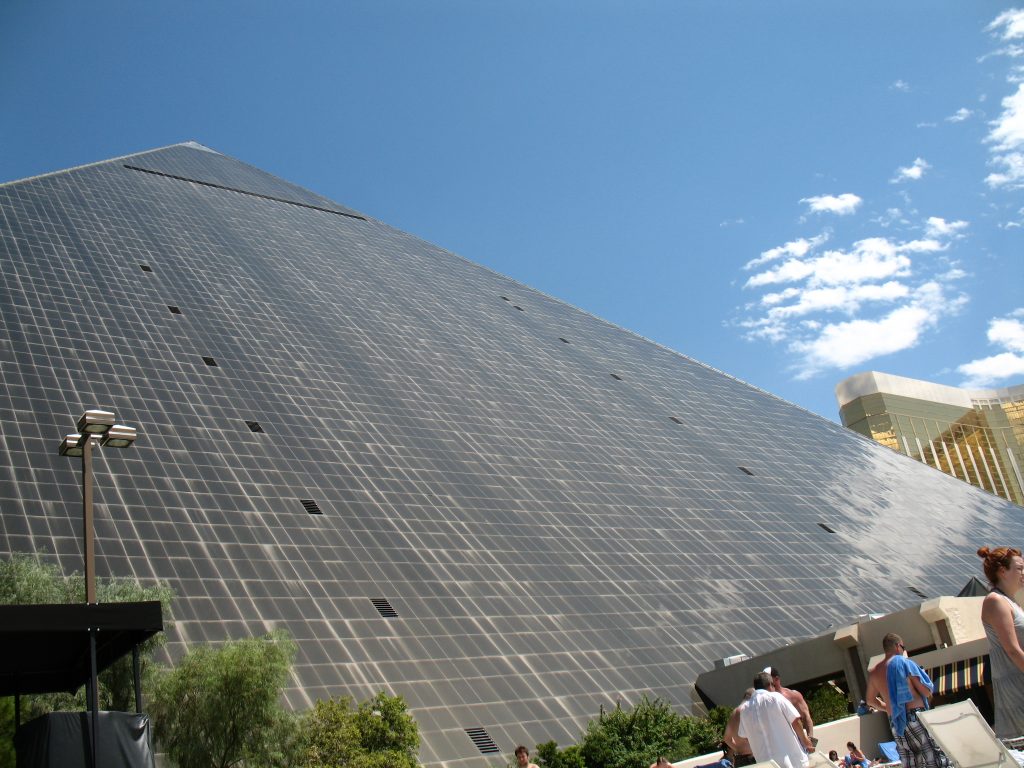 Liz and I spent most of our time hanging by the pool or taking in sights on the strip. We didn't check out any of the Luxor's shows, walk-through attractions, or LAX. The one night we visited Cat House, Luxor's bordello-styled lounge, it was quite dead. We did enjoy the breakfast buffet, which is affordable if pretty standard for a Vegas buffet. The location so far down the strip is a pain, literally – with Liz wearing heels, going anywhere except Luxor meant taking a cab, which on the Strip can take up to an hour and cost more than the casino. On the evening we toured the north end of the Strip, I made the mistake of wearing new shoes that gave my blisters, and Liz wore heels, and the journey back to the Luxor was like the Trail of Tears. On our next trip, I think we'll save up a bit more and spring for a room somewhere further up the Strip.