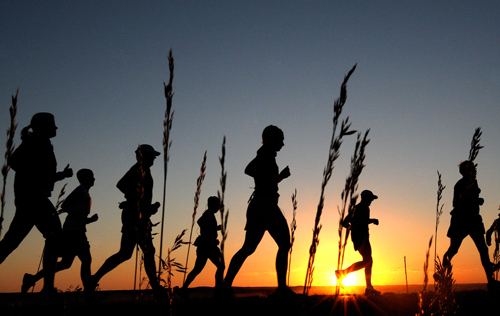 I knew it would happen eventually, I just didn't know it would take less than six months.  My dear friend Elizabeth Ann Corkum used her formidable powers of persuasion (including beer, and the promise of more beer to come) to lure me into my first marathon, which may also end up being my first sanctioned road race.
On March 20, 2011, if all goes according to plan, I will run the Yuengling Shamrock Marathon in Virginia Beach.  I'm excited, but also very intimidated.  I mapped out a training plan, and it's frightening just seeing distances of more than 20 miles listed on my calendar.   I'll run twenty or more miles five times before I actually run the marathon,  including one training run of 26 miles. My longest run to date was twelve miles – but this is what a marathon is all about, after all:  testing your body and proving to yourself that you can achieve what seems impossible.
Or, you know, failing gloriously as thousands of others achieve what you could not.  Either way.
On Sunday I watched Liz and her boyfriend run the Philadelphia Marathon.  It was Liz's first.  I'd watched her through her training, pushing through pain and frustrating setbacks, managing a hectic and exhausting schedule, and setting a challenging goal.  She wanted to finish in less than 3:41 (that's hours and minutes) to qualify for the 2012 Boston Marathon.  My friend Alex and I came out to support her, holding signs and cheering her on at various points along the course.  She was running a great pace, but in between mile 13 and the finish the course led up and back along the Kelly Drive and I didn't see her.  I must admit that my anxiety was high as we waited at the finish line, watching the clock count up and hoping Liz was still on her pace and not injured or slowed.  She finished in 3:32:33, more than eight minutes ahead of her goal.  I was there to meet her at the finish line, her legs jelly and her face streaked with the salt of dried sweat.  It was an amazing experience all around.
Now it's my turn.  I'm not trying to qualify for anything and I don't have a goal time, really.  Okay, I admit I'd like to finish in under four hours, but I'll reevaluate that goal as my training progresses.  The important thing right now is that my newly-gimpy left knee holds up.  I ran four miles earlier tonight, the first running I've done in ten days, and my knee felt a little wobbly but not painful.  I have fourteen more miles on the schedule for this week, including a seven-mile Black Friday run to burn off Thanksgiving dinner, and a fifteen mile run in one month.  I hope my body holds up to this adventure.