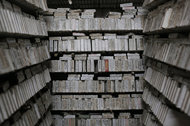 A charming NYT article and video about the last remaining indie video rental joint in Chelsea, the proprietor, and some of the customers who keep them in business.
The shop is open seven days a week, 365 days a year. "It's like having a convenience store," said the shop's owner, Alan Sklar. "Everyone needs milk."
Message boards, blogs, and e-zines allow us to connect with people who share our interests–but while me may have friends on other continents, we may not meet the ones next door. We stream video instead of going to the movies or the video store, we download books to our e-readers instead of going to the book store or the library, and buy our records on iTunes instead of at the local record store. We lose the connection to fellow fans, but more than that we lose the curators–the librarians, checkout boys, and store managers who immersed themselves in their medium and knew our taste better than us. Sure, AllMusic and iTunes Genius can recommend albums based on our tastes, but there's nothing like the first time someone tips you off to Pink Floyd's The Wall or Captain Beefheart.
I remember discovering Meet the Feebles, a recommendation from a friend who worked at a video store, back when it was unavailable in the US and could only be viewed on a worn-out hand-me-down VHS tape. There's an air of mystery and possibility there, that can't be had from a download or streaming video.
It's encouraging to see some people willing to spend money to keep this alive.
h/t to @imseanavery for the link.