Chuck at the Guide to Literary Agents blog reposted an article from author Debra Darvick (phew, that's a lot of attribution), Ten Hidden Gifts of Rejection Letters.  Not a bit too soon.  For the past week or so rejection letters are all the mail I seem to receive.  No worries though.  I figure rejection happens quickly, but an offer will take a while.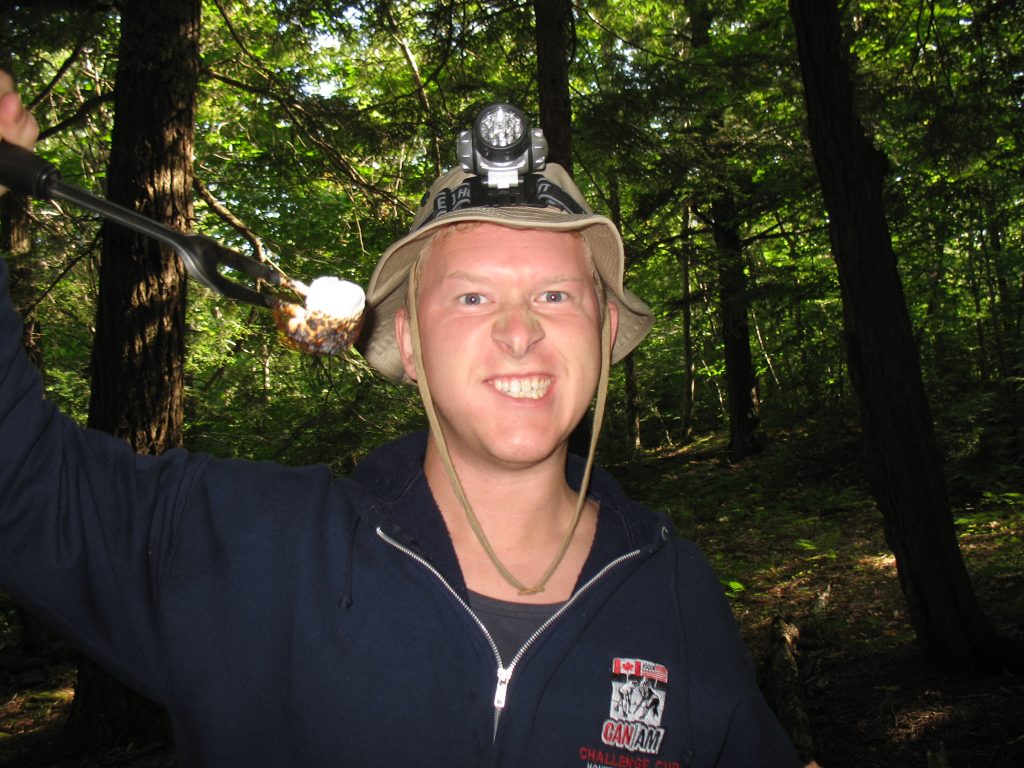 Thought I'd share a story and a few photos from my Labor Day weekend backpacking trip to the Catskill Mountains.  My friend Liz and I hauled our asses over the Burroughs Range Trail (AKA the Wittenberg-Cornell-Slide or WCS Trail) on Saturday, camped below the summit of Terrace Mountain, and returned on the Phoenicia-East Branch Trail on Sunday.
First things first.  The folks at the NY/NJ Trail Conference who authored our guide maps have a talent for understatement.  For those of you who may also be using these maps, be advised that "steep" in many cases means "near vertical," and "challenging" means "soul crushing."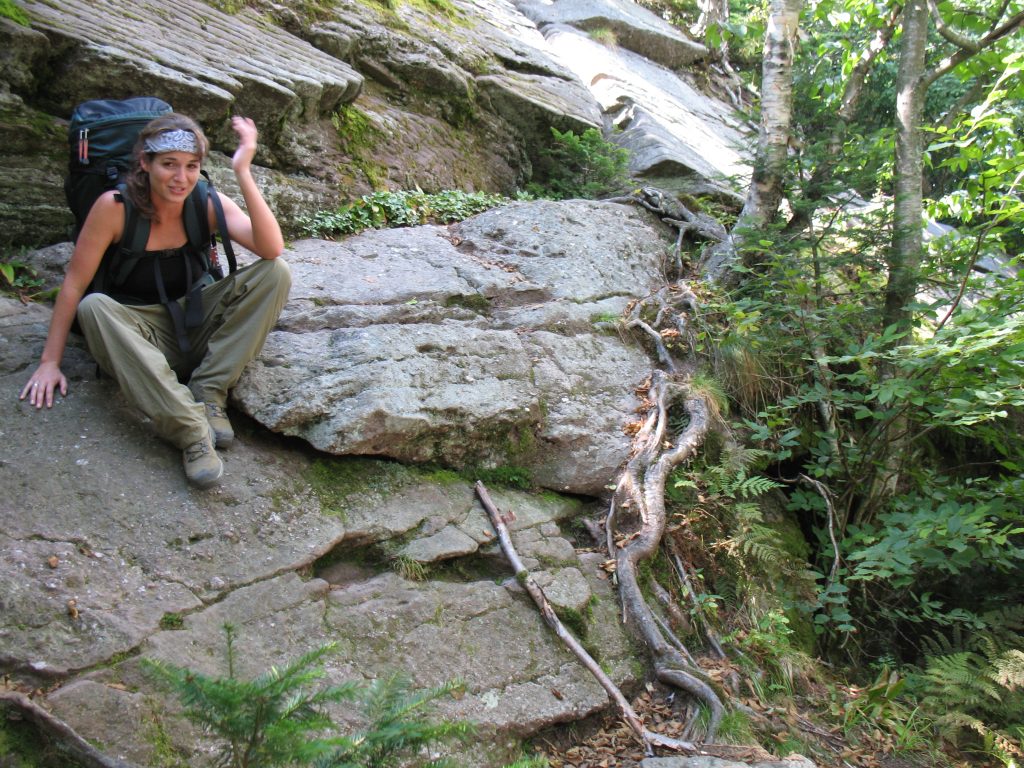 We arbitrarily decided to park on Rt 47 and follow the Burroughs Range Trail from the west, instead of starting at Woodland Valley and approaching from the east as the guide suggests, and that simple decision meant that we descended the near-vertical rock faces, ledges, and boulder-slides and ascended more gradual winding trails.  Several sections were extremely difficult to manage wearing heavy packs, and would likely have been challenging with no packs at all.  In one spot, we opted to lower our packs on rope so that we could more easily climb down after them.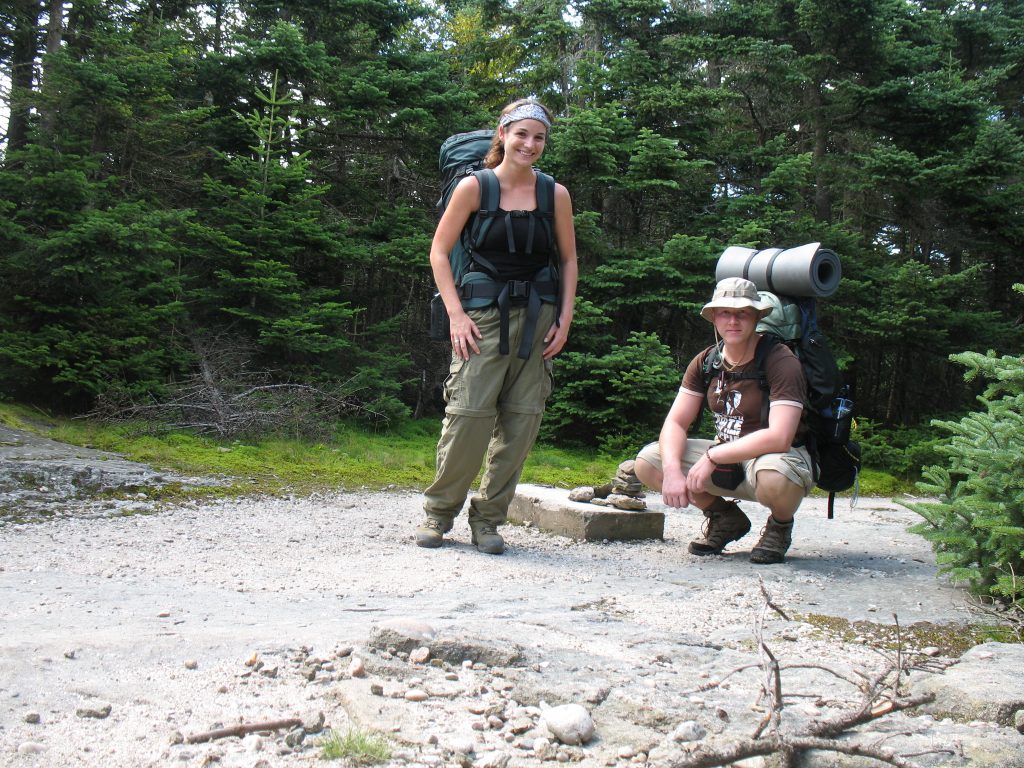 None of these were high enough to require technical skill or climbing gear, and in general there were easily spotted hand- and toe-holds, so the whole thing looks more challenging than it really is.  Particularly because this trail is so close to a popular car campground, however, I would stress that the trail between Slide and Wittenberg Mountains is extremely challenging, and beginning hikers should plan to move at about one mile per hour over that section of trail.
Okay, enough complaining about the trail.  On the bright side, these are beautiful mountains and, unlike most of the mid-Atlantic Appalachian Trail, far enough removed from highways and airports that hikers feel genuinely removed from modern life.  We had beautiful weather, and even on Labor Day weekend the trails were not mobbed.  We bagged three of the thirty-five Catskill High Peaks, and shared each summit with five to ten other hikers, at most.  The views are really incredible, especially the view from the summit of Wittenberg Mountain, which overlooks the Ashokan Reservoir.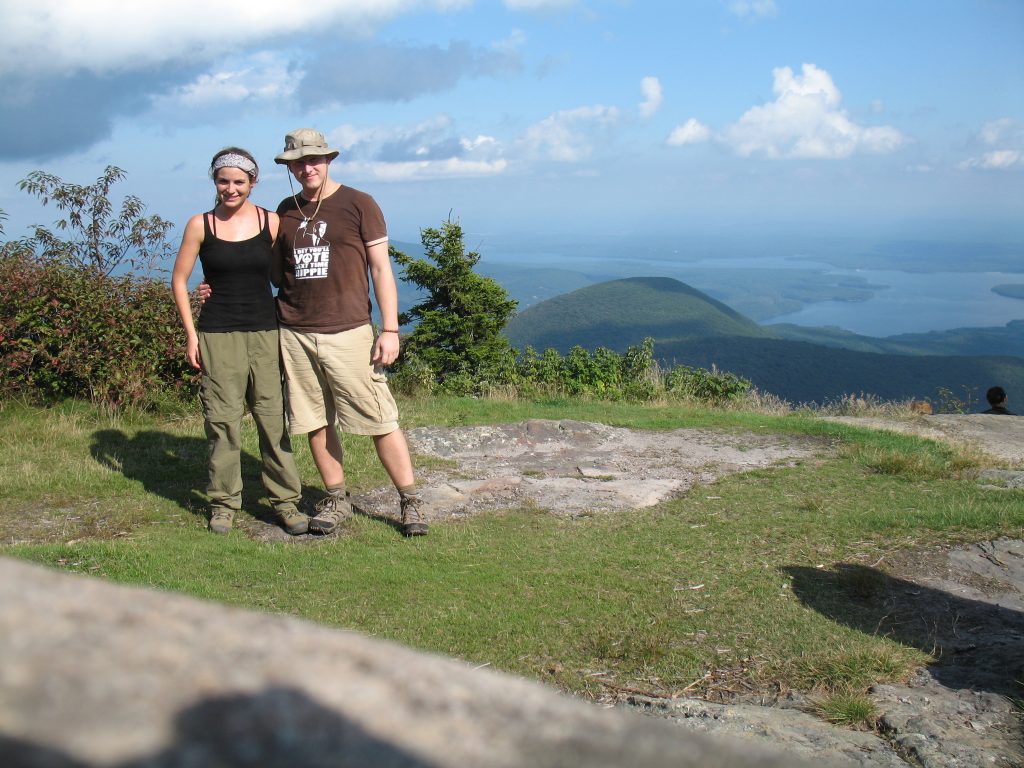 We brought a water filter, and the springs and mountain streams were generally flowing well.  The only exception was the one spring from which we planned to draw our camp water, and so we had to add two miles on to or first day's hike in order to reach the next spring.  All the others were running full and cold and made welcome oases where we could recharge our batteries after the long and difficult hike.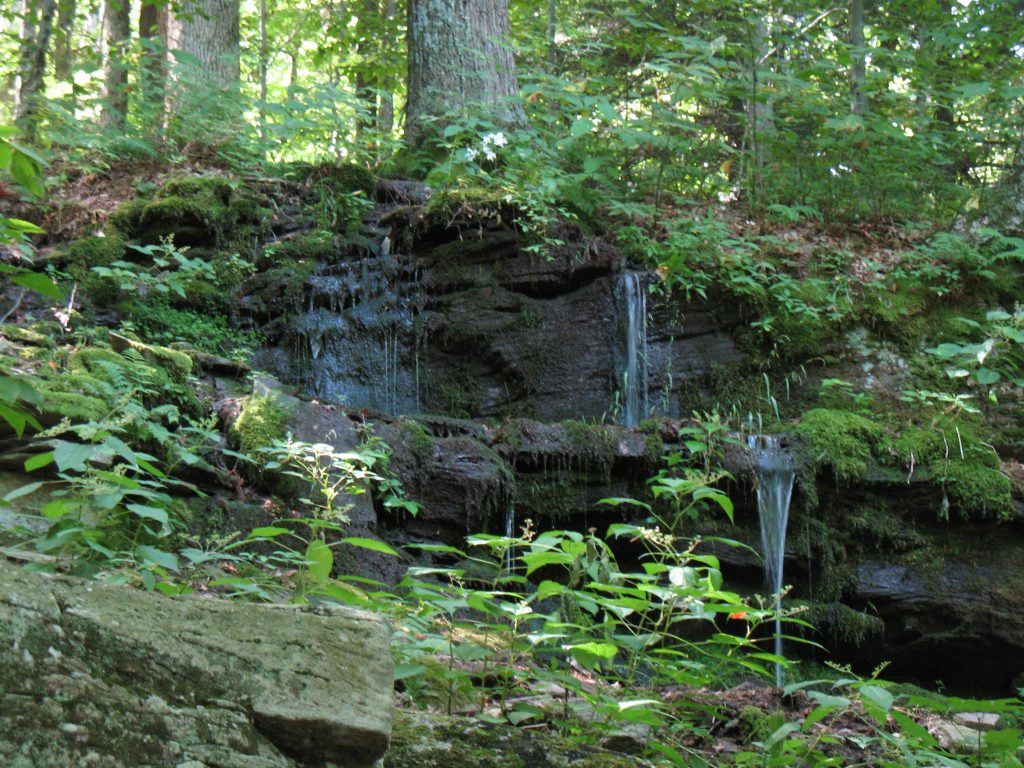 Saturday night we camped below Terrace Mountain.  We had intended to camp at the lean-to below the summit, but after our extra two mile quest for water we just wanted to be done, so we stopped at a campsite just short of the lean-to.  Firewood was plentiful.  We bear bagged our food, not because there are any bear warnings in the Catskills (there aren't) but because bear bagging also discourages raccoons and other less-scary varmints.  It was perfect sleeping weather, and after our long day we each got about twelve hours.  I think being removed from city sounds, alarm clocks, cell phones, and nagging cats ready for breakfast helped with that.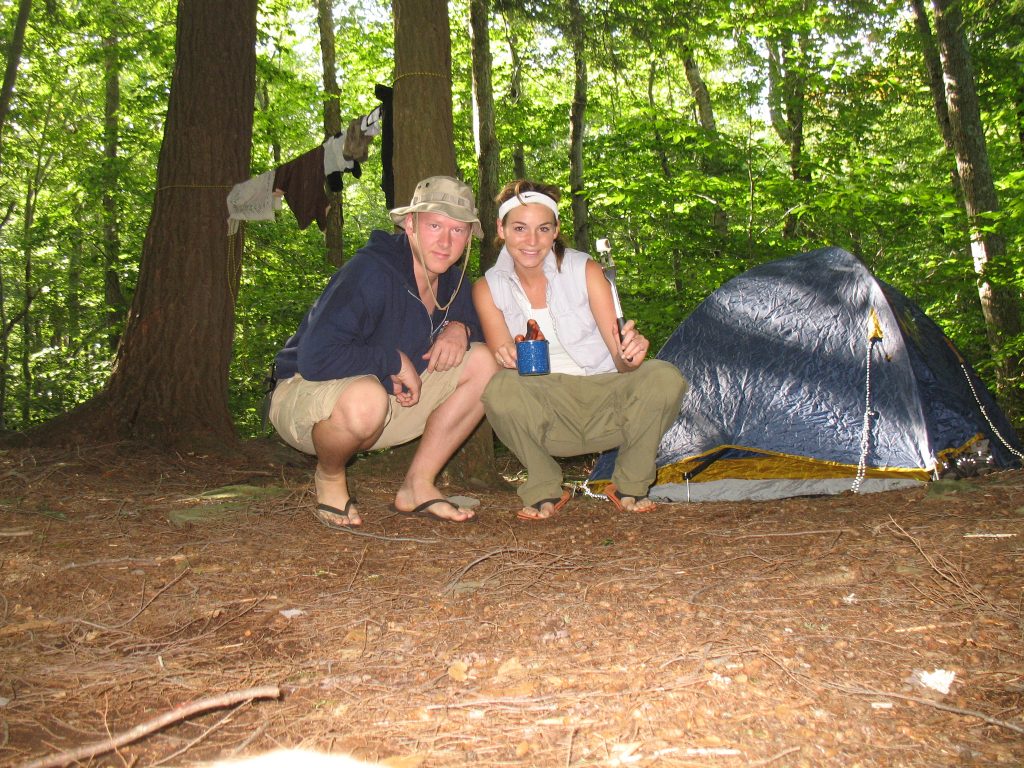 Day two took us down Terrace to Woodland Valley Campground, where we picked up the Phoenicia-East Branch Trail.  Though far less challenging technically than the Burroughs Ridge, this yellow-blazed trail positively LEAPT up the mountain.  We climbed by stairs to the top of Fork Ridge and continued on to the "Old Woods Road," a soul-crushing former logging road that ascends at a consistent angle just steeper than your average wheelchair ramp for what feels like two miles.
As I gasped for air, pack tugging at my sore shoulders, all I could see ahead of me was more of the same incline.  My racing pulse kept bringing to mind the scene in "Stone Fox" where the dog's heart explodes.  Thankfully, when we finally reached the top, we were greeted by a beautiful cold spring.  We spent a good ten minutes splashing ourselves with the crystal clear water, dipping our heads beneath the steady cascade, and refilling our drinking water.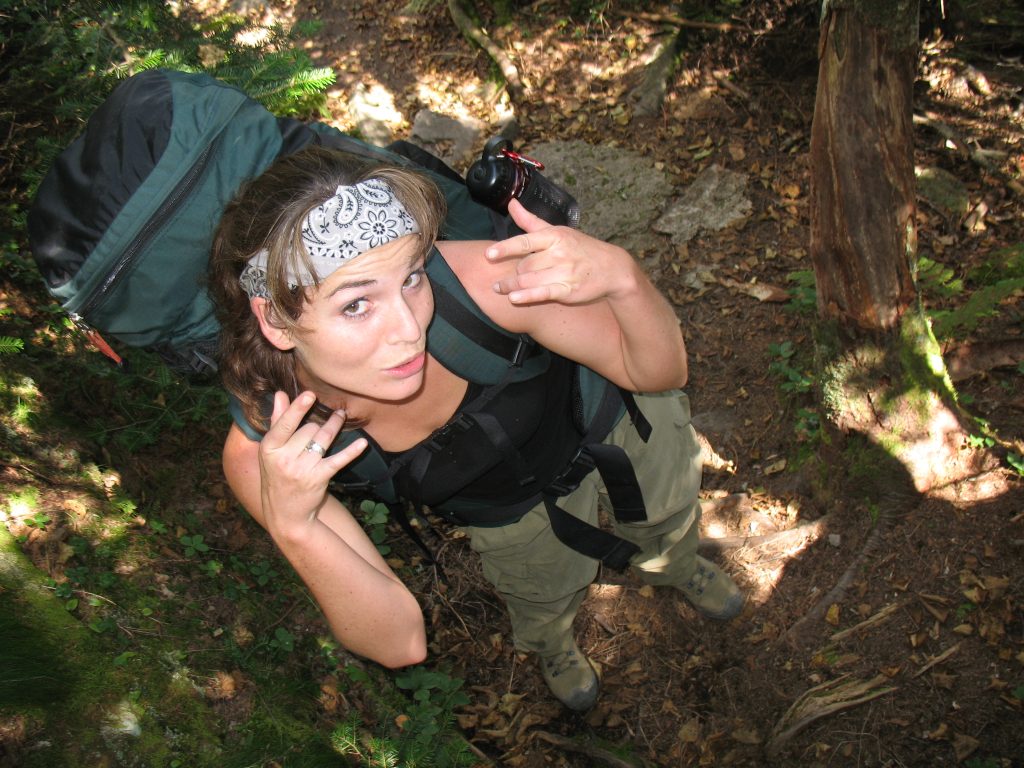 From there, the PEB trail was no sweat.  The last two miles are paved, following Rt 47.  Just before we reached that junction we passed the Giant Ledge-Panther-Fox Hollow Trail, which would have taken us north to (see if you can guess) Giant Ledge and Panther Mountain, another of the High Peaks.  Panther is also one of the required "winter peaks" for aspiring members of the Catskill 3500 Club.  There are apparently several great camp sites atop Giant Ledge (which is below the Catskill Range's 3500-foot "no camping / no fire" zone) and there's a good chance we'll tackle that trail at some point in the future.
On our way out we stopped at Winchell's Pizza and Barbecue for dinner.  I must say their much-touted barbecue was really pretty sub-standard, even after two days eating trail food, but the pizza was good and their lentil soup was pretty outstanding, and I award heaps of points for atmosphere.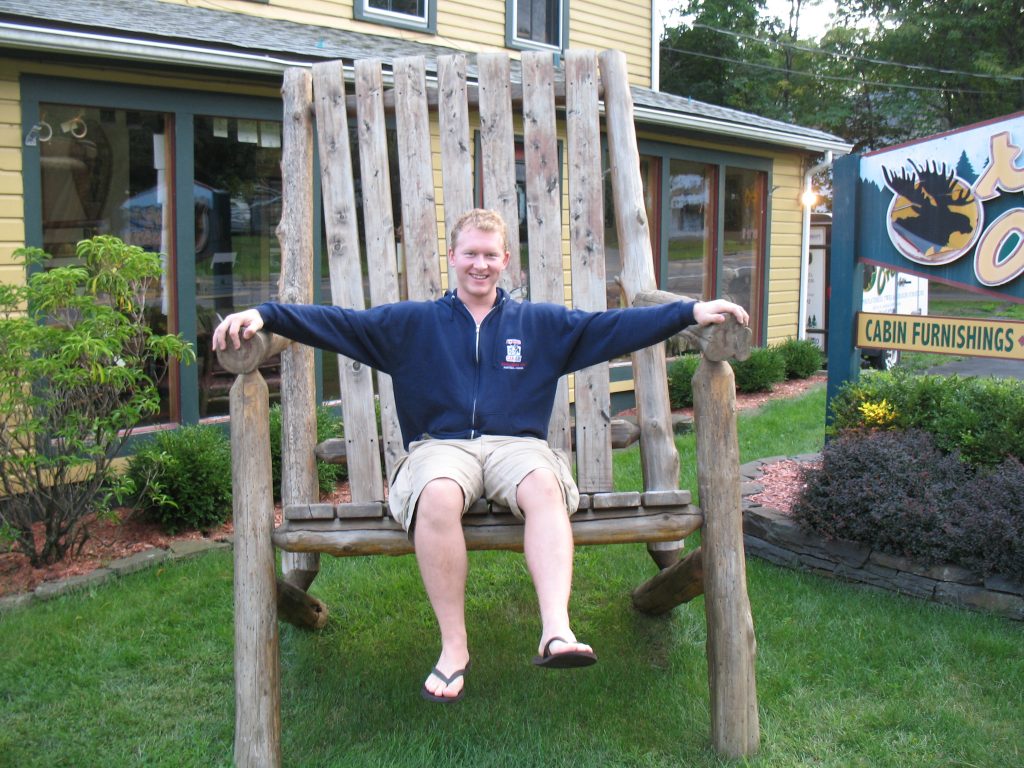 The menus feature a lengthy narrative explaining the history of the Ashokan Reservoir, one of several Catskill reservoirs from which New York City draws its drinking water.  The short version is that NYC ran short on water, so they bought up a bunch of land in the Catskills and informed the residents that they had two years to move before their towns were under water.  Many of the residents scoffed at the idea, but two years later their towns were indeed under the reservoir.  As one drives along Rt 28 and Rt 28A, which follow the East and West banks of the reservoir, respectively, there are lots of signs that read "Former Site of [Town Name Here]" with a wavy water-line above the words.