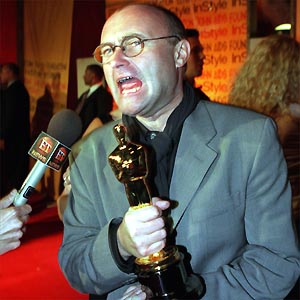 A friend emailed this morning to let me know that Phil Collins has scheduled a three-night stand at the Roseland Ballroom in NYC.  Everyone has that first band that made them like music, and Genesis was mine.  "We Can't Dance" is the first album I ever owned.  My early explorations into music, if charted, would show Genesis as the central trunk from which all other bands branched, which is to say I discovered Clapton because he played on "But Seriously," and Led Zeppelin because Phil had been their drummer at Live Aid.  I spent most of my evenings, for at least a year, haunting the Genesis discussion groups on Prodigy, and to this day I aspire to one day produce the definitive annotated version of The Lamb Lies Down on Broadway.
As my musical tastes have matured, I've fallen out of love with most of what Phil has produced, and my opinion on Genesis now agrees with what most music snobs will say: once Peter Gabriel left, they quickly went to shit.  I do still find a certain nostalgic appeal in almost everything he's been involved with, but that is solely because of connection to my personal life.  I saw Genesis at the Wachovia Center in 2007, on their "Turn It On Again" tour, only because I had never before seen them live in person, and it felt like something I should do.  I was struck by how much more enthralling I found the museum-quality replicas of 1970s Genesis shows performed by The Musical Box and daydreamed about what might have been if only Peter Gabriel wasn't so resistant to nostalgia, or if the other guys had been patient enough to make the tour fit Peter's schedule.
The first concert I ever attended was Phil Collins at Madison Square Garden in the summer of 1994, when the memory of the Rangers' Stanley Cup win was so fresh that the crowd twice spontaneously erupted into "Let's Go Rangers" chants.  Since then, he's toured several times and I barely took notice, but the prospect of seeing him at a smaller venue is slightly intriguing.  Allow me to annotate the article I found about the show (and his new album, "Going Back") and my real-time reactions as I read it:
"Atlantic recording artist Phil Collins has announced the forthcoming release of "GOING BACK," a deeply personal labor of love [me: Oh, that's promising.  His last "deeply personal labor of love" was an album on which he played every instrument, recorded 90% of it alone in his home studio, and produced some really interesting and high quality–though not especially catchy–music.  "Face Value" was a "deeply personal labor of love," and that's one of the greatest, most emotionally visceral records ever recorded, the artistic peak of Phil's solo career.] that finds the eight-time Grammy winner faithfully recreating the Motown and soul music that played such an influential role in his creative life." [me: Oh.  Oh no.  This is going to be terrible.]
The article includes this quote from Phil: "My idea, though, was not to bring anything 'new' to these already great records, but to try to recreate the sounds and feelings that I had when I first heard them."
So he's doing an album of Motown standards, faithful to the original recordings.  Sigh.  Rod Stewart, meet Phil Collins.  He, too, has given up.