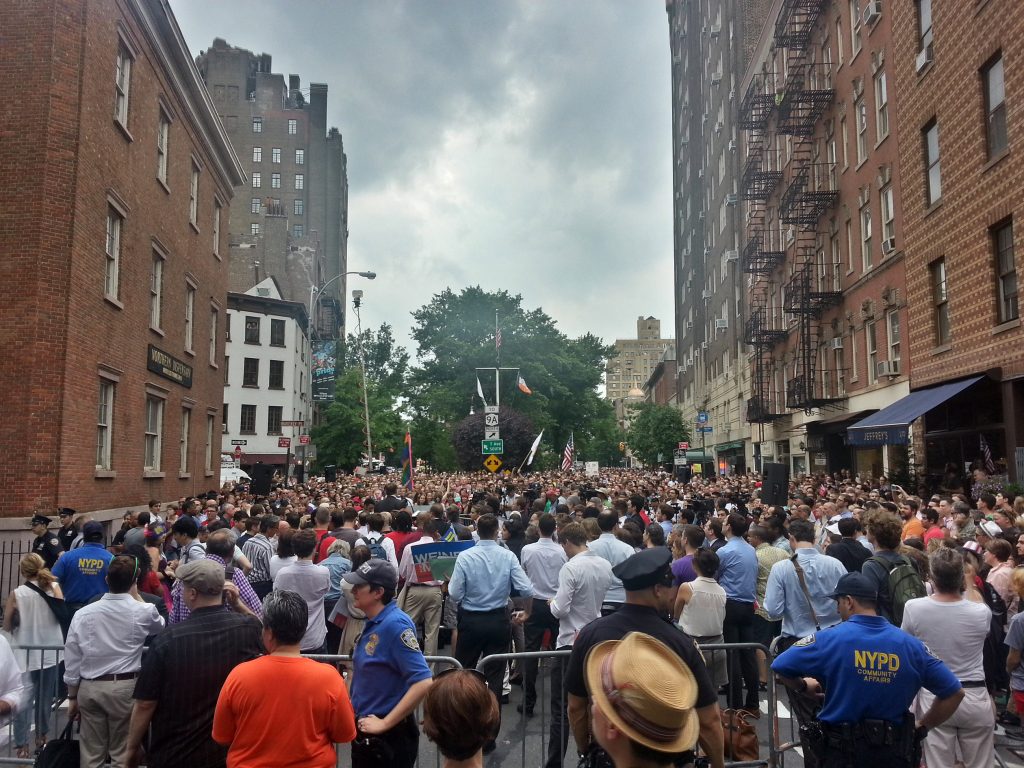 This photo is of Christopher Street, where I just watched Edie Windsor announce that she defeated DOMA. It's where I went as soon as I left the office.
It was 44 years ago, almost to the day, when our brave brothers and sisters in the Stonewall Inn decided they'd had enough abuse from the NYPD, and took to this very street with their bottles, beer cans, and bricks. Now the police cordon off the street while we revel in our victory, and keep an eye out for those who may try to do us harm on our day of celebration.
Forty-four years. My mother and father were graduating from high school. My grandfather was, as it happens, driving a paddy-wagon for the NYPD. He was not at Stonewall, as far as I'm aware. Just look what has changed in forty-four years.
I want to congratulate all the couples whose marriages are, as of today, really equal. I want to thank my former colleagues at the ACLU, and my allies at the organizations and law firms who helped to fight this fight. But mostly I want to thank my LGBT elders, the people who came before me, who had it so much harder than I've had it. I want to thank those drag queens and fags and dykes who threw bottles and cans and punches, and finally declared on behalf of the whole queer population of America that we had enough. I wonder what it feels like for them, those who are still with us, to see the NYPD protecting us.
I felt a sense of awe tonight every time I heard the name of this case, Windsor v. The United States of America. Edie Windsor is five feet tall, she just turned 84, and she can't weigh more than the average seventh grader–but she took on a country. And she won.