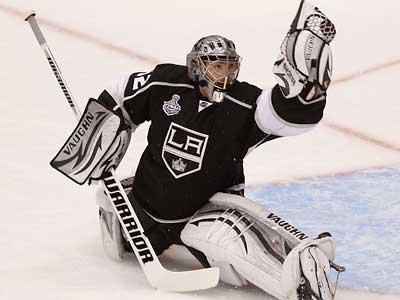 I feel a little kinship with Jonathan Quick, a fellow goalie who grew up idolizing and studying Mike Richter. He's done a little more with it than me. Makes him a lot of fun to watch, though.

For a kid who grew up watching the Rangers and Richter, beating Marty Brodeur for a Stanley Cup is about as close as you can get to a dream come true.

A few months ago the headlines about the Kings were entirely about their lack of scoring, and how Quick was the only thing they had going for them. He kept them in games they had no business winning, and they made the playoffs by the skin of their teeth.

I wonder what it feels like to be a Flyers fan right now. I know as a Philadelphian who hates the Flyers it feels damn good.

Two years ago after the Blackhawks beat the Flyers, I had several conversations (and saw lots of opinion articles) about how goaltending had become a commodity. I wonder if those people still believe that, after the last two Conn Smythe winners were goaltenders.

With all due credit to the Kings, who absolutely earned this, I've got to say that if NHL officiating in the playoffs bore any resemblance to officiating in the regular season, they wouldn't have an 8 seed beating a 6 seed for the Cup. Right now, it's like the two have completely different rulebooks. Makes it hard for a team to excel in both.

I wonder if Quick will accept congratulations from President Romney.