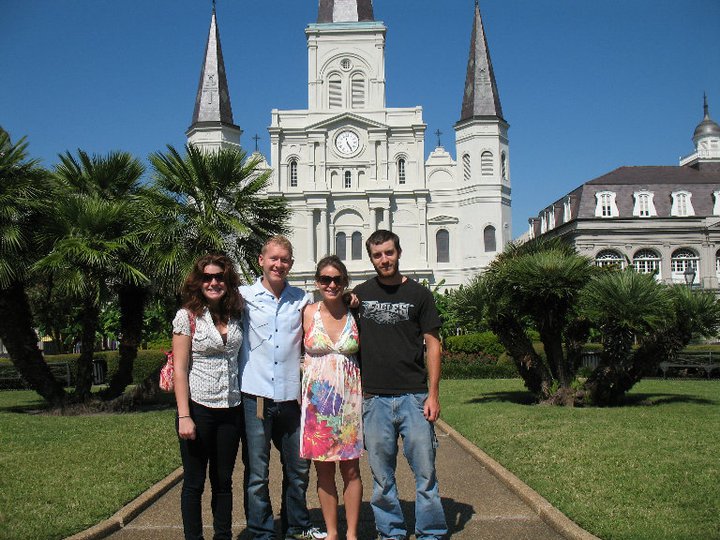 This weekend I escaped on a long-anticipated visit to New Orleans with my BFF Liz and her brother and sister, who was on the eve of her twenty-first birthday.  This was the first time any of the three of them had visited the Vieux Carre, and only my second.  I was there in September 2004, a year nearly to the day before Katrina arrived and changed everything.
It was interesting seeing the city post-Katrina.  Prior to the visit, I wondered how much would have changed.  The French Quarter, physically at least, appears unchanged.  There are perhaps more vacant storefronts, but everything I remembered, from Lafitte's Blacksmith Shop to the Cat's Meow to the poster of disturbingly young girls hung in the window of Little Darlings strip club, was intact.  What has changed dramatically is the culture.  Katrina figures prominently in almost all the art on display in the Quarter, and conversations with locals almost always include some mention to things "before the storm."
The purpose of our trip had nothing to do with cultural anthropology, however.  Our goal was debauchery.  The weekend was a bit of a whirlwind, trying to squeeze as much of the New Orleans experience out of our few days as we could, and ended up being a bit tamer perhaps than we'd anticipated.  There was certainly a lot of drinking – both the classic New Orleans cocktails like absinthe, sazerac, and mint julep and the sickly-sweet Bourbon Street variety, all of which seem to come in their own plastic souvenir cup.  On my first trip six years ago, I fell in love with Hurricanes, the signature drink of Bourbon Street.  I was dismayed on this trip to learn that my taste buds have lost their affection for sugar and fruit flavoring, and after a couple of frozen fruit drinks I needed beer and whiskey to put me right. I like to think that means my palate is more sophisticated now, and not just that I'm getting old.
We elected to ride public transit from the airport to the French Quarter, which was rewarding.  On the Canal Street streetcar we fell into conversation with a young couple who expressed amazement that we'd flown, and informed us that they got to New Orleans by "hopping freight trains."  My excitement over meeting actual hobos lasted only until the man started offering to sell me "party favors" while gesturing emphatically at his nose.  I politely declined, and we parted ways.  We did attempt a tradition suggested (or should I say insisted upon) by the woman, where the birthday girl pinned a dollar to her shirt.  Theoretically this would result in many locals pinning on more dollars – though in practice, we got exactly one dollar, from the doorman at Pat O'Briens, and several tourists on the street who pointed out that she had a dollar on her shirt.  It also led to one glorious conversation with a panhandler, to whom we insisted that we had absolutely no cash among us, only to remember after the fact that she was WEARING a dollar bill.
Though time was short, we managed to work in a brunch at Cafe Du Monde, a wonderful creole dinner in the Quarter, a lunch that included fried alligator, crawfish etouffee and jambalaya, hurricanes and cigars at Pat O'Briens, a walk along the Mississippi River, shots and a sing-a-long at Lafitte's, and a very ceremonious absinthe flight at Pirate's Alley.  We bar-hopped along Bourbon Street Friday and Saturday nights, and took some time to just stroll around the Quarter, soaking in the atmosphere and romance and mystery and pausing to listen to the bands and street musicians who add to the magic of the city.  I also had the pleasure of a six-mile run with Liz through the Garden District.  At the three-mile point as we paused for breath and water, we were approached very enthusiastically by a scrawny, mangy cat who met us with affection and then sulked away when he realized we offered nothing he could eat.
Sunday morning we toured the city a bit more, picked out a few souvenirs, and had lunch and drinks at Margaritaville – yes, a restaurant chain, but they served local food and offered the best view of the Saints game.  Then it was time to head home, and unfortunately any relaxation value from the vacation was shot to shit when our flight was delayed, we missed our connection, and wound up stranded in Atlanta overnight.  The airline sprung for a hotel room and for food, and it would have been no more than an aggravating complication if it didn't pose a serious risk to Liz's current stand-in job.  At present, it appears that she's still safely employed, and we did each get a free round-trip flight to make up for the stress of missing the connection, but we learned a couple of valuable lessons for future flights: one, allow more than half an hour for connections, no matter what the airline recommends, and two, consider whether we want to continue flying with this particular airline in the future.