Congratulations, Internet! We made it to another Friday, a whole week into the Trump Presidency. Only… 207 more weeks to go. Hoo boy.
It did take almost an entire week for Steve Ganondorf Bannon to declare the press officially "the opposition party." In the meantime, Trump and his surrogates have mainly stuck to veiled threats toward the "media." American reporters may all be headed to re-Ned-ucation soon, but so far it's all talk. So let's turn the eyes of liberty elsewhere.
[A brief aside: I have a Patreon page, and I would love your support! I've been blogging for more than ten years here, and have never yet turned a profit. Patreon makes it very easy to commit to as little as one dollar a month, so if you like what I'm putting into the world, please consider becoming a patron!]
Women be Marchin'
The Women's March on Washington, and worldwide "sister marches" on Saturday, January 21, were very likely the largest protest action in the history of… well, the world. Estimates put the number of marchers in the United States between 3.3 and 5.4 million. That's roughly one to two percent of the nation. and worldwide estimates range from around 250 to 350 thousand. Good job, everybody!
I marched in the New York City Women's March. You can see some of my photos here, and read some suggested next steps for marchers who may be wondering where to put that energy now.
Side note: I only today learned that there was a Women's March in the French Revolution, in which the ladies marched on Versailled and evicted the King. I don't know if that reference was intentional, but I sure hope so.
PA Supreme Court Hears Rapper Charged with Threatening Police
The Pennsylvania Supreme Court is considering the case of Jamal Knox, who raps under the name Mayhem Mal. Knox, a 22-year old resident of Pittsburgh's East Liberty neighborhood, was arrested and charged after, well…
"The case began with an April 2012 traffic stop in the city's East Liberty section, when Knox, now 22, drove away after telling an officer he did not have a valid driver's license. Following a chase in which he hit a parked car and a fence, police found 15 bags of heroin and $1,500 on Knox and a stolen, loaded gun in the vehicle."
Yikes. But none of that is what this case is about! Seven months after that, police found a rap video on YouTube in which they say Knox threatened them. Knox's lawyers say the video is a protest, and protected free speech under the First Amendment. Police counter that the lyrics, which include references to "cop killer" bullets and Richard Poplawski (who killed three Pittsburgh officers in 2009) constitutes a true threat.
For more on Knox's case, Lily Hirsch has a terrific write-up over at The Establishment.
Third Time's a Charm for Colorado Religious Discrimination Bill
The Colorado House has, for the third time in three years, defeated attempts to pass a "Religious Freedom Bill" that would legalize discrimination.
We're going to see a lot of these in 2017, so get ready. "Religious Freedom," in this context of course, means turning gay people away from your business. Because as Jesus said, it is easier for a fat man to fit through the eye of a needle than to bake a cake for two dudes getting married. Or something like that.
Meanwhile, back in Pennsylvania, a restaurateur in Annville allegedly kicked out a black student after calling him a racial slur. The student, Rickey Lee Bugg Jr, says the owner of Just Wing It told him "Trump's President… so I can say what I want."
In point of fact, that is not [yet] the case. But who knows? Once they get a taste of legalizing discrimination, the GOP may try to push us all the way back to the 1950s.
Quick note here for the unaware. The First Amendment does not apply to speech or expression in pursuit of profit. That's considered commerce and therefore, under the Constitution itself, may be regulated.
Federal Court Hears Suit on Concealing Actors' Ages
Maybe it's insensitive of me, but I'm going to call this the "Jenna Maroney" Law.
A federal court is hearing a challenge to a California law, passed last year, that prohibits commercial casting websites from listing actors' ages. The law was promoted by Screen Actors Guild President Gabrielle Carteris, who was 29 when she landed the role of 17-year-old Andrea Zuckerman on Beverly Hills, 90210. Carteris was able to conceal her age, but believes that sites like IMDB today deny actors that opportunity.
Most experts warned California legislators at the time of passage that the law wouldn't withstand scrutiny. The First Amendment protects the right to list virtually any information, including the age of an actor. If you're an actor going out for a part that is *ahem* a bit young for you, better act fast.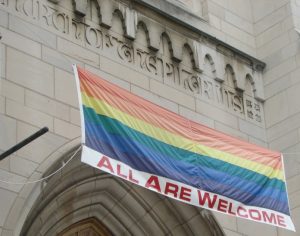 As a rule these days I try to avoid investing time and energy in online debates, but sometimes I just can't help myself. Yesterday I got sucked into a debate at the Matt Walsh Blog about Arizona's rightly-vetoed Senate Bill 1062, the "Turn Away the Gay" bill. I was more than a little startled by the outpouring of right-wing support for SB 1062 that followed Governor Brewer's veto, and the arguments mounted at MWB grabbed me because they were especially heinous.
For starters, of course, there's the standard refrain of the straight, white cisgendered libertarian male: "The solution is simple, just don't do anything." In this case, Walsh argues that the proper solution to anti-gay discrimination is for the government to do nothing, and the free market will eradicate discrimination. I'm not even going to spend a lot of time refuting this position because (a) it's so incredibly stupid; and (b) if you're here reading, you probably already agree that it's incredibly stupid, so I won't waste your time. Let's just agree that if LBJ were alive, we could all share a hearty laugh about what a fantasy world some libertarians live in.
The reason I write about it here is to point out how ludicrous it is to call SB 1062, or the many similar bills in other states, "Religious Freedom Laws." The so-called 'right' of Christian business proprietors to turn away LGBT people is presented as a protection of their religious observation. A government mandate to treat LGBT customers identically with other customers is, according to the bill's defenders, a tyrannical denial of religious liberty. This is absurd on several levels. Continue Reading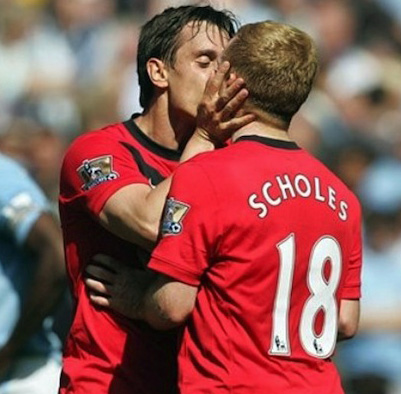 Paul Scholes and Gary Neville play soccer, professionally apparently, in a country called–wait, let me look this up–England.  Except there it's called "football," which I assume explains the unexplained popularity of soccer.  The British have apparently spent decades sitting around very large stadiums watching a bunch of men stand around an enormous field, wondering when the Steelers were to arrive.
Anyway, so on Saturday Scholes scored a very important goal to win a very important game, and Neville gave him a kiss, and people's minds were BLOWN.  Bunches of newspapers in the UK ran kiss-related headlines.  Most were favorable, but still.  Someone should remind the UK that they are European, which in the US is a word that means "gayer than gay."
But I digress.  The whole reason I took to this blog is because I love, love, LOVE the response from Guardian sports blogger Barry Glendenning, whose response is that these two guys are not nearly hot enough for a PDA.  Via Outsports (emphasis mine):
That kiss was wrong. Wrong. Wrong. Wrong. Wrong. Wrong. And before you scuttle off down to the comments section to level accusations of homophobia at us, don't bother. If it was two ripped and dashing footballers – some Matt Taylor-on-Jason Roberts action, for example – we'd have no problem with such ostentatious public displays of man-love and possibly be even a little turned on. Hell, even if Gary Neville had just planted one hand on either side of Paul Scholes's head and laid a shock-and-awe black-and-white movie style smacker on his lips, that would have been fine too. But it was the tenderness of the moment, the cupping of the face, the tilting of the heads, the eyes closed expectantly, the blur of ginger hair and wispy not-quite-beardness in yesterday's sport sections that put us off our lunch. Down with this sort of thing. Careful now.
Purely in the interest of journalism, I did the research, and it appears these are the two eye-pleasing gentlemen Glendenning would rather see locking lips on the turf: