I just have a couple of quick thoughts on this week's episode. I know I haven't been posting on GOT much recently; I'm back in novel-writing mode (elbow-deep in revisions) and putting most of my energies there.
First, a customary warning: As always I play fast and loose with the spoilers, book and show. Read at your own risk.
Like many viewers, I was taken aback by the ending of this episode. The teeth, the eyes, the screaming. The exploded brains. Even for a show that has been brutal throughout, this episode took it further. (How about that flayed man earlier in the show, too?)
It was so traumatic, my initial reaction was "that's not how it happens in the book!" Then I went back and re-read what happened in the book, and realized this was almost exact. The teeth, the eyeballs, it happens slightly differently, but it's all there.
And after I got over my initial reaction, horror at what I thought was exploitative, ratings-seeking violence, I decided I liked this ending–and I'll tell you why. Continue Reading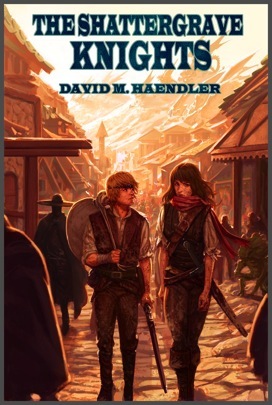 [Full disclosure: Dave is a personal friend.]
I wouldn't exactly call myself an avid fantasy reader. While I greatly enjoy some entries in the genre, I've sampled many of the best-selling fantasy series and found them wanting. I only have so much patience for yet another repackaging of Tolkein: the unlikely hero, living a peaceful life in an idyllic region far removed from the world's problems, finds a long-lost (or hidden) relic of great power, which attracts the wise old magician who sets the hero up with some motley companions and sends them on a long quest to challenge the rising power of the Big Bad. Along the way they fall into peril, they're separated and nearly defeated, and the hero learns to wield a great power long forgotten in polite society. Ho hum.
Some of these are certainly tropes of the genre and relatively unavoidable, but good fantasy finds new and inventive ways of presenting the tropes. I'm pleased to say that The Shattergrave Knights, recently self-published by attorney and fellow Philadelphian David M. Haendler, does just that. The story follows Jack and Olive Merriwether, twins from the tiny hamlet of Muddy Hollow who are caught up in adventure when a simple act of kindness draws the ire of a paranoid and overreaching government. A quest to rescue their parents from extraordinary rendition leads to revelations about the history of the Protectorate and the Merriwether's own sinister ancestry.  Continue Reading