It was just past 7 PM on Election Night, 2012. I was in front of my computer, a dozen browser windows open to various local news outlets and social networks, feverishly making memes for the ACLU. "Don't Leave the Line," they said in English and Spanish. "By law, if you're in line when the polls close, you must be allowed to vote."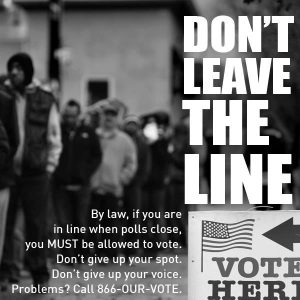 With less than an hour until polls closed, and wind chills well below freezing, thousands of people across our state were still waiting in line to vote. We'd received word that some officials planned to lock their doors at the 8PM cutoff, so while some of our staff took calls to voting rights hotlines, our attorneys were on the phone with judges and election officials, and I worked the social networks, trying to spread the word so that no one gave up their rightful place in line.
This circumstance was not unique to Pennsylvania, or to the 2012 election, and while intentional attempts to suppress votes are at least in part to blame, the larger problem is a system and an infrastructure woefully inadequate to handle even the 60% of eligible Americans who choose to vote.
Our system of elections in the United States is a joke. Voters participating in the most vital core function of democracy must do so by visiting their municipal buildings, staffed by volunteers, often to fill out a piece of paper. In some states–including Pennsylvania–polling places might literally be inside private homes. This is not the system of elections one expects from a society where a person can order a yoga mat from their smartphone and have delivered to their hands 12 minutes later.* It's past time for the United States to embrace electronic voting. Continue Reading