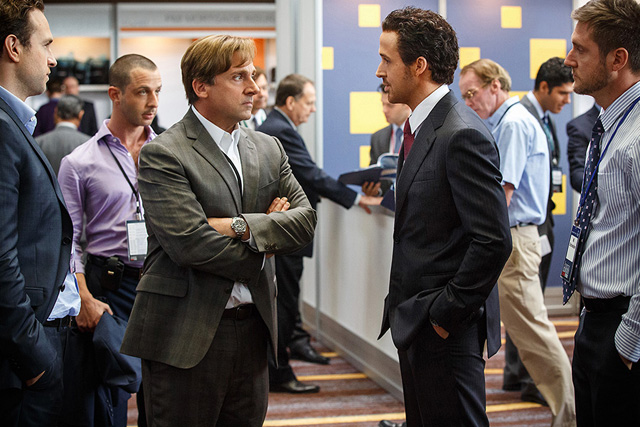 The Big Short is my favorite movie of the 2016 Awards Season*. I feel a little bad saying that, in light of yesterday's Oscar nominations and their slate of white, white (blonde) faces, and the fact that The Big Short is, well, short on both women and minority actors. But the fact is I watched it through twice, and would happily sit through a third viewing. The film is alternately funny and gutting, the cast is pretty much universally brilliant, and the directing–from Adam McKay, who brought us films like Anchorman, Anchorman 2, and Funny or Die's The Landlord–is impressive, avant-garde without being distracting, and making a complicated subject accessible.
* Okay, it's tied with Mad Max: Fury Road, but since that came out over the summer it doesn't really feel like an Awards Season movie.
Not too accessible, mind you. Despite the sidebar scenes in which celebrities like Selena Gomez, Anthony Bourdain, and Margot Robbie (in a bubble bath) break the fourth wall and explain complicated financial structures in layman's terms–one of the film's more unique and amusing contrivances–I frequently found myself leaning in so I could follow the fast-paced dialogue about derivatives, mortgage-backed-securities, credit swaps, and so on.
The Big Short is far from the first film about the 2008 Financial Crisis, but it might be the best combination of sweeping and accessible. Too Big to Fail captured the moves and conversations happening inside the banks and the Federal Reserve, and films like 99 Homes capture the human cost across the nation, but The Big Short takes a wider scope and time period to show the viewer what happened, through the eyes of a handful of professionals who predicted the crash. Continue Reading