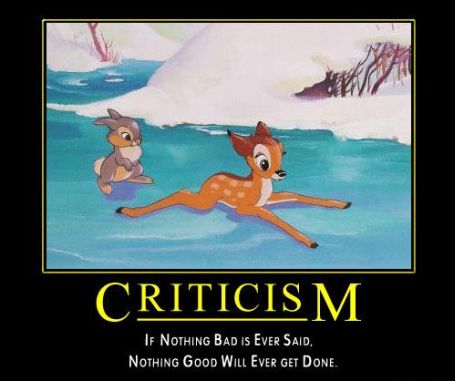 You say "thank you." That's it.
You remind yourself that this person took the time to (a) read your work, (b) give it enough thought to formulate comments, and (c) took the time to share those comments with you. You don't get defensive or tell the person that he missed the point, that he doesn't understand good writing, that he obviously wasn't paying attention, that he doesn't know or understand your genre, or that you never realized what an idiot he is in general until now.
If your reader asked any questions, you can answer them. If you are unclear about a criticism, you can ask for clarification. If you want to bounce a potential revision off him and see how he likes it, you can do that. And if you must – absolutely must – you can explain what you were trying to achieve with the work. Under no circumstances, however, can you tell the reader that he or she is wrong. Continue Reading
Recent posts by Kristin Nelson and Josh Olson (via Janet Reid) got me thinking about this.
At age 15 my writing abilities were far above those of my peers.  Any essay I turned in, no matter how vapid, met universal praise.  Many teachers assured me that this would one day be my career.  It was very encouraging, but as a result I got lazy.  I rarely did assigned reading, and when it came time for the book report I just churned out some flowery praise and waited for my A.  No one ever seemed to notice that the pretty words said essentially nothing.
I participated in John Hopkins University's Center for Talented Youth ("CTY") program four years in a row.  It was one of the most important experiences of my life, socially much more than academically.  In fact the social aspect of the program is probably why, when we were assigned a report on Conrad's "Heart of Darkness," I didn't bother reading the book.  I think I spent the assigned homework time writing some fiction of my own instead.
I turned in the usual tripe, one page front and back, and expected the usual praise.  Instead, scrawled in red pen across the top of the page, I got this:
"Chris:

This paper would have been better used if you'd folded it into a paper airplane and thrown it out the window."
It was Dr. Phil Boshoff who gave me that review.  I was shocked at first, but even at that age I think I appreciated it.  He didn't coddle me because I was smart for my age.  He saw that I hadn't done the work, he knew I was capable of more, and he called me on it.  In no unclear terms.
I kept that sheet for a while, but over the years I think it got lost.  I wish I still had it.  I would frame it and hang it over my writing desk.